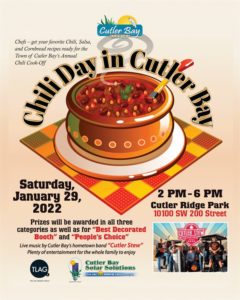 The Town of Cutler Bay's annual chili cook-off competition and sampling event returns on Saturday, Jan. 29, when "Chili Day in Cutler Bay" takes place at Cutler Ridge Park.
Event organizers are looking for local chefs, amateur or professional, to enter and compete to see who is the best chili, cornbread or salsa maker.
As before, the cook-off will take place at Cutler Ridge Park from 2 to 6 p.m. The event is free and attendees will be able to taste test the freshly made chili and other items as well as cast votes in the People's Choice awards portion of the judging.
The official judging team will be presenting prizes in the following categories:
● Chili
● Cornbread
● Salsa
● Best Decorated Booth
● People's Choice
Food also is available for purchase and for entertainment hometown band Cutler Stew will be playing live music. This has always been one of the most popular town events. Event sponsors are The Luis Andrew Group and Cutler Bay Solar Solutions.
Cutler Ridge Park is located at 10100 SW 200 St. in Cutler Bay.
To register as a chef or for additional information go to www.cutlerbay-fl.gov/community/page/chili-day-cook. Contact Paola Perez in the Parks & Recreation Department with any questions by email at pperez@cutlerbay-fl.gov or by calling 786-205-5427.