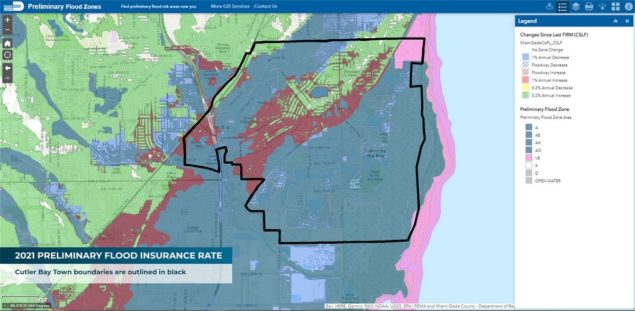 The staff of the Town of Cutler Bay is alerting residents to changes in FEMA Flood Zones in Miami-Dade County that may affect flood insurance rates.
The Town Manager's Office, the Department of Public Works and other administrative offices are staying in touch with FEMA and the county to be sure that they and residents are aware of the changing data.
"The Federal Emergency Management Agency (FEMA) is in the process of updating the Flood Insurance Rate Maps (FIRM), which they update periodically," said Desiree Ducasa, town communications manager. "The current maps in use for Miami-Dade County became effective in 2009."
Such updates are a normal process since the risk for flooding changes due to land use, erosion, new building and development, natural forces like shifting weather patterns and other factors. All these can affect how water drains and flows after heavy storms, storm surge or other disasters. To better reflect the current flood risks, the National Flood Insurance Program (NFIP) and FEMA use the most recent data and latest technology to update their Flood Insurance Rate Maps.
"Flood Insurance Rate Maps not only identify the flood vulnerability in communities, but they are used by the insurance industry to calculate flood insurance costs," Ducasa said.
"These new maps may change your property's flood zone or base flood elevation, or both, which may impact your flood insurance rate."
Ducasa points out that the new flood insurance rate maps are only in the preliminary stage and have not yet been adopted, although they will be soon. To learn more about this change and to see if your property's flood zone may change visit the town's website:
https://www.cutlerbay-fl.gov/publicworks/page/fema-preliminary-flood-insurance-rate-map
Town officials recommend that if the map updates now project your property to be in a Special Flood Hazard Area (SFHA), uninsured residents should buy flood insurance before the maps are adopted in order to receive the current preferred rates. Those rates will likely go higher.
Check out Miami-Dade County's interactive flood zone map by entering your address at http://gisweb.miamidade.gov/floodzone/.