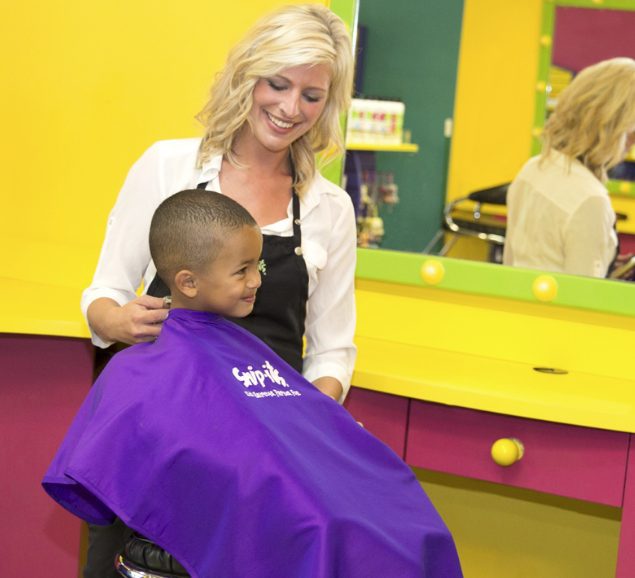 On Saturday, March 10, residents and families of South Miami attended the grand opening celebration of Snip-its, a child-focused salon and entertainment concept, located at 5770 Sunset Drive, South Miami. It was a fun-filled event, featuring face painting, balloon art, pictures with Spider-Man and Elsa from Frozen, as well as goodie bags. The Easter Bunny also paid a special visit to Snip-its guests. 
Owned by entrepreneur Maria Gabriela Costa, the new Snip-its location serves as a solution for parents who are looking to untangle the challenges of finding a convenient haircutting experience for their children. Snip-its provides quality children's hair care, a friendly and knowledgeable staff, animated gadgets and a character-filled entertaining environment geared to creating an enjoyable haircutting experience. 
"We are excited to be part of the South Miami community," said Costa. "We look forward to welcoming  kids and parents to our salon and provide them with wonderful haircuts, beautiful braids and updos, fantastic spa treatments and fun birthday parties. We are here to make each kid's experience memorable." 
Upon entering the styling station, parents can be close at hand while Snip-its's specially-trained stylists work their Snip-its Magic on the child, who is kept busily entertained with custom activities featuring Snips and The Gang. Beyond the traditional haircut, Snip-its also offers a professional brand of hair care products and a wide variety of kid-friendly spa services and parties. 
Defined by the branded characters, games, stories, and a Magic Box that dispenses a prize at the end of the service, Snip-its turns a traditionally mundane and often unpleasant experience into an animated adventure. Virtually unheard of in the hair care industry, the brand implements a unique and one-of-a-kind stylist training program specifically for children with autism, as part of its partnership with the national Autism Speaks organization.
Snip-its was founded in 1995 by Joanna Meiseles, a busy mother who sought a hair salon that catered to her young children. Twenty years later, the brand continues to be synonymous with the founder's mission, offering quality children's hair care and an environment that is welcoming, wholesome and entertaining.
For more information about the services and proprietary products Snip-its offers, please visit www.snipits.com. 
About Snip-its
Snip-its is the nation's fastest growing child haircut franchise that is dedicated to making haircuts fun for children and relaxing for parents. Founded in 1995 by busy mother, Joanna Meiseles, Snip-its is turning a traditionally mundane and often unpleasant experience into a fun-filled, animated adventure. As the leader in the underserved child hair care industry, Snip-its offers attractive opportunities for business minded individuals looking to earn a successful living in a recession-resistant industry with speedy expansion and strong consumer demand. For more information about the franchise opportunity, please visit www.snipitsfranchise.com.