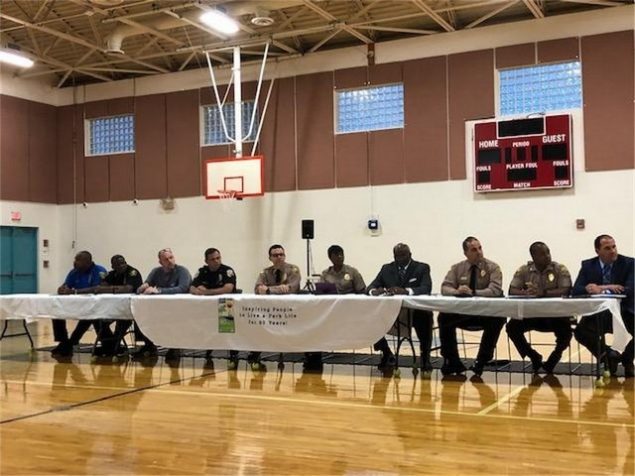 The Miami-Dade Community Relations Board (CRB) hosted a South Dade Community Forum from 6 to 8 p.m. on Feb. 26 at the Goulds Community Center, 11350 SW 216 St.
The topic was "Recent Gun Violence in South Dade."
Attending the forum were District 8 Commissioner Daniella Levine Cava, District 9 Commissioner Dennis C. Moss, Miami-Dade County Police director Alfredo "Freddy" Ramirez, City of Homestead Police Chief Al Rolle, Florida City Police Chief Pedro W. Taylor and representatives of Miami-Dade County Public Housing & Community Development.
Jean Tong-Noon, a Cutler Bay resident who is on the board, expressed concern about the situation in the area and the growing number of incidents.
"We work together as one body rather than as individuals towards stopping these shootings that are affecting our communities," Tong-Noon said. "People are afraid to sit on their porches or allow their children to play in the yards. We hear about it happening in North Dade but now it's happening too frequently on our streets and in our yards. Neighbors are afraid to 'See something, say something,' but Director Ramirez and other police chiefs, assured them that it is the only way they can plan and respond to these crimes."
Dr.Shirley Plantin, EJD, director, Miami-Dade County CRB, was pleased with the forum, which she considered the first step in an important series of discussions.
"I think it was a good meeting, a good start. Much more work needs to be done and there'll be some followup conversations to be sure, specifically taking into account the recommendations and suggestions from the community, engaging with the on-the-ground community leaders. I know the police departments are fully onboard, fully committed.
She said it's not something that's going to solve itself overnight.
"It's going to take a number of conversations and that's definitely what the Community Relations Board was created to do," Dr. Plantin added. "We understand that one forum doesn't fix it, and we are committing to returning, to being at the table, whether we're hosting or participating."
To contact Dr. Plantin about the CRB call 305-375-1406 or send an email to Shirley.Plantin@miamidade.gov.