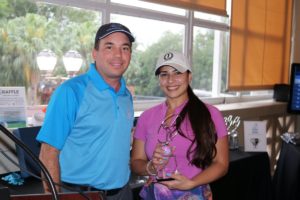 Golf enthusiasts of all skill levels turned out once again for Boys & Girls Clubs of Miami-Dade's 55th annual Golf Classic in Memory of Charles "Bebe" Rebozo.
The sold-out event, played at Deering Bay Yacht & Country Club in Coral Gables on Monday, Mar. 14, raised nearly $200,000 for the clubs' youth development programs, including its after-school programs, homework assistance, mentoring, computer training, social skills, dance, arts and crafts, summer and athletic programs and more.
The tournament offered players the chance to play for fun or at a competitive level while raising much-needed funds. In attendance was former Miami Heat player and philanthropist Alonzo Mourning Jr. and former Dallas Cowboys player Julius Jones.
The competition began with lunch and an open bar courtesy of Shaw-Ross International Importers, Ron Barceló, Biscayne Bay Brewing and Kombi Keg Miami. Players enjoyed on-the-go snacks on the links courtesy of Florida Tours Beverage Cart and Hooters' famous wings. The day concluded with an awards banquet and award ceremony, which featured a delicious buffet-style dinner, cocktails, a raffle and prizes. Golfers enjoyed winning raffle prizes such as golf aficionado, PGA packages and foursomes, fine wines and liquors, restaurant gift cards and more.
"We are incredibly grateful for the overwhelming support from all those who joined us for the 55th annual Golf Classic in memory of Charles 'Bebe' Rebozo," said Boys & Girls Clubs of Miami-Dade president Alex Rodriguez-Roig. "With these funds we can continue to provide thousands of area youth in Miami-Dade the opportunity to enjoy Boys & Girls Clubs of Miami-Dade's positive programs in a safe and structured environment."
Boys & Girls Clubs of Miami-Dade recognizes its 2022 Golf Classic committee members: Tom Bezold, Clint Gulley, Anthony Lopez, Alex Quevedo, Fred Rebozo, Ed Soto, Marc Suarez, Ben Walker, Taylor Walker and Special Events chair Olga Guilarte. Committee members steer this popular long-standing Boys & Girls Clubs of Miami-Dade fundraiser.
Boys & Girls Clubs of Miami-Dade has been serving youth in the community since 1946.
What once was a single building and site for boys has grown to five clubs serving thousands of boys and girls year-round, providing programs in the areas of character and leadership development, educational enhancement, career preparation, health and life skills, cultural arts and sports, fitness and recreation. Club staffing, initiatives, and programs are designed to inspire and enable area youth and provide them with the resources to succeed and share in the American Dream.
For more information, visit www.bgcmia.org or call 305-446-9910.