SATURDAY, DECEMBER 16 & SUNDAY, DECEMBER 17
Pullman Miami Hotel will be hosting a Breakfast with Santa from 9 a.m. to 1 p.m. on Saturday, December 16th and Sunday, December 17th. Breakfast will be $25 per person for adults and $12 for children (ages 7-13). Children 6 years and under will enjoy breakfast for FREE! Santa Claus will be available for photos with children, and there will be a holiday train for kids to enjoy, as well as an arts and crafts station. Photos with Santa and a go-around on the train require a separate minimum cash donation of $10, of which all the proceeds will go to Holtz Children's Hospital. This will be the perfect opportunity to capture that magical moment with Santa! For reservations or more information, visit www.pullmanhotels.com/Miami or call 305-264-4888.
SATURDAY, DECEMBER 16
The Kevin Garcia Foundation will host its 9th Annual Christmas Party and Toy Drive on Saturday, December 16th at 7 p.m. at Monty's Coconut Grove (2550 S. Bayshore Dr, Miami). Admission is complimentary with one new unwrapped toy or $20 donation at the door, per guest. Drink tickets will also be sold at the door. For more information, visit http://kevingarciafoundation.org/.
SUNDAY, DECEMBER 17
Española Way, Miami Beach's historic and picturesque pedestrian-only street, is inviting visitors and locals alike to wrap up their holiday shopping at the first annual Española Way Holiday Market taking place on Sunday, December 17th, 2017, from 10 a.m. to 7 p.m. between Washington and Drexel Avenues.
Produced in collaboration with The Market Company, Miami's leading green event producer since 1997, the festive one-stop holiday shopping extravaganza will feature handmade merchandise such as clothing, gourmet foods, gifts, art, children's items, jewelry and more made by artisans from South Florida, The Florida Keys and across the country. Students from Homestead Senior High School will sing Christmas carols for the crowd. This rain or shine event will be free and open to the public.
Vendors at the Española Way Holiday Market will include: Italian styled jewelry by Joseph; salts and sugars by Patti Ruiz; silver jewelry by William Moffet; African Market Baskets; knitted purses by Made in Maine; still-life paintings by Lee Rowan; jewelry by Christine Peters; ethnic crafts, jewelry and clothing by Carol Paz; hand-made candles, jewelry and knitted scarves by Kitty Hart; prints by Pierre Marcel; Española Way watercolors by Michel Billardon; and fresh orchid plants. There will also be a delectable selection of locally produced food items including: fresh French pastries, fresh squeezed orange juice, fine Italian olive oil, pappardelle pasta, local honey, fresh herb plants, fresh mozzarella cheese, fresh fruit cups, and jam and jellies by Jen Isa.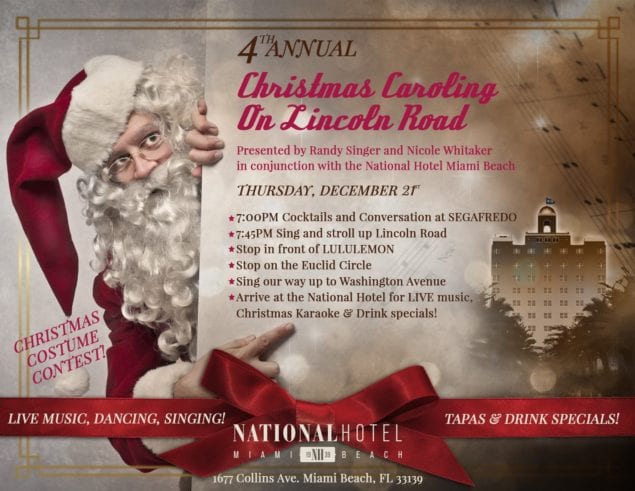 THURSDAY, DECEMBER 21
Join The National Hotel for its 4th Annual Christmas Caroling down Lincoln Road on Thursday, December 21st at 7 p.m. The evening will be produced and presented by famed music and event producer, Randy Singer, in conjunction with Nicole Whitaker and The National Hotel. Festivities begin in front of Segafredo on Lincoln Road (1040 Lincoln Road, Miami Beach) and will end at The National Hotel (1677 Collins Ave, Miami Beach) for live music, festive libations, and a holiday costume contest.
At 7 p.m., carolers will gather at Segafredo on Lincoln Road for happy hour and rehearsal lead by Randy Singer. Singing will begin at 7:30 p.m. outside of Segafredo and will make its way down Lincoln Road with a stop in front of lululemon. Next, the group will prance over to Euclid Circle to sing for all who will listen. The singing will continue right up to Washington Avenue and then the group will stroll and sing their way over to The National Hotel for the official after party filled with drinks and tapas specials, music and live entertainment.
To RSVP, visit https://www.eventbrite.com/e/christmas-caroling-on-lincoln-road-presented-by-the-national-hotel-tickets-40260380883.