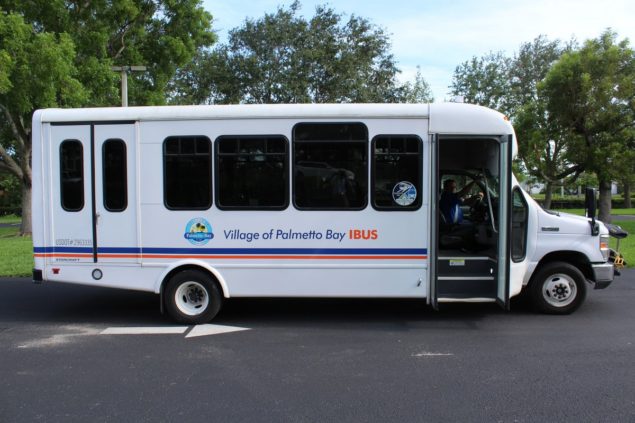 The Village of Palmetto Bay has resumed its local circulator I-Bus service as of Monday, Mar. 15. The free servive is from the St. Richard's/Holy Rosary Catholic Church Park & Ride lot to the Dadeland South Metrorail Station and back, starting at 6 a.m. and continuing until 7 p.m.
For ride information and locations visit www.palmettobay-fl.gov/327/Park-and-Ride-Info-Locations. For schedules go to www.palmettobay-fl.gov/1113/I-Bus-FreeBee-Schedule-van-on-demand.
Park and riders can download the Palmetto Bay IBUS app to access arrival times and track shuttles in real time. Visit www.palmettobay-fl.gov/1016/I-Bus-App-is-Here.
Due to COVID-19, passengers and drivers will be required to wear masks or facial coverings while on the bus. Capacity has been modified to allow for social distancing. The vehicles are sanitized regularly to ensure everyone's safety. Passengers who are visibly ill, coughing or sneezing will not be allowed on the bus.
Mayor Karyn Cunningham said she was pleased to see the return of the once familiar shuttles.
"We are super excited to get our I-Bus back on the road and the transitway," Mayor Cunningham said. "This provides our residents with one more option to get out of their cars while safely getting to work using transit. It feels good to be moving into what are hopefully the final innings of the COVID pandemic and with more people returning to offices and schools the I-Bus is ready to help get them there.