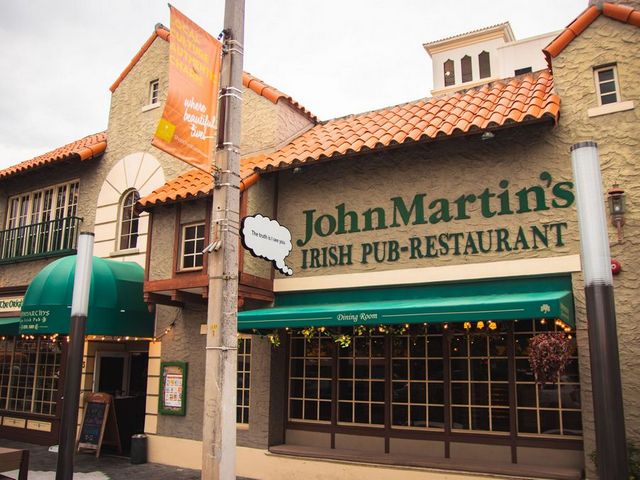 JohnMartin's Irish Pub & Restaurant has delivered an authentic Emerald Isle-themed flair to the heart of Coral Gables' historic Miracle Mile and Business District since 1989. The proprietors, Martin Lynch and John Clarke, are two Irishmen who became pioneers in the Coral Gables restaurant scene.
Thirty years later, they are still serving the most traditional Irish favorites like Bangers & Mash topped off with premium brews serenaded by live entertainment every Saturday night. Having established itself throughout the years as a pillar in the community, JohnMartin's is inviting the community to commemorate this milestone with a weekend filled with celebratory events.
Throughout the weekend raffle tickets will be available for purchase, to benefit the Parkinson's Foundation. Prizes include a four-night stay at Clontarf Castle in Dublin, a string of pearls from Snow's Jewelers or a $100 gift certificate to JohnMartin's. Winners will be contacted via email and the drawing will take place on Monday, Sept. 23.
JohnMartin's Irish Pub & Restaurant 30th Anniversary Weekend Extravaganza Schedule:
Thursday, Sept. 19 — JohnMartin's Themed Trivia Night "Pull your socks up" and test your JohnMartin's and City of Coral Gables knowledge with an Irish and City of Coral Gables-themed special trivia night, starting at 8 p.m. Take a trip down memory lane with the JohnMartin's crew and help begin the 30th anniversary celebration.
Friday, Sept. 20 — JohnMartin's 30th Anniversary Charity Golf Tournament — JohnMartin's swings into action for a good cause, hosting a charity golf tournament to benefit the Parkinson's Foundation. Starting 8:30 a.m. at the Biltmore Hotel Golf Club, the tournament will be a two-man best ball format. Entry fee is $150 per person and will include coffee and Danish, 18 holes, immediately followed by an award's ceremony and lunch with an open bar at JohnMartin's. The awards ceremony will be emceed by humor columnist and author Dave Barry.
The co-owner and chef extraordinaire, John Clarke, suffers from Parkinson's which is why they have chosen the foundation. A portion of all proceeds will benefit The Parkinson's Foundation.
The night will be capped off with karaoke as guests sing Irish and country favorites all night long.
Saturday, Sept. 21 — Bands, bands and more bands starting at 6 p.m. — JohnMartin's invites some of the greatest acts that got their start here back to grace the mainstage for a day of live entertainment. A special feature performance will begin at 7 p.m.
Sunday, Sept. 22 — Irish Brunch The 30th anniversary is traditionally known as the "Pearl" anniversary, join JohnMartin's for an Irish Brunch with your finest set of pearls to commemorate the milestone. Return for the iconic open mic night starting at 8 p.m.
Monday, Sept. 23 — JohnMartin's Day — Officially recognized by the City of Coral Gables as JohnMartin's Day, the celebration continues with a special screening of the JohnMartin's Documentary at the Coral Gables Art Cinema. Complimentary hors d'oeuvres and refreshments will be provided as a part of customer appreciation day.
JohnMartin's has been recognized for its cuisine by publications that voted the restaurant "Best Pub Food" for several years. The restaurant features karaoke on Friday nights at 10 p.m., live entertainment every Saturday night and Jazz on Wednesday's from 6 to 9 p.m.
They feature Trivia Night, Thursdays from 8 to 10 p.m. and Open Mic Night on Sunday nights at 8 p.m.
JohnMartin's is located at 253 Miracle Mile in Coral Gables. For more information, call 305-445-3777, or visit www.johnmartins.com.