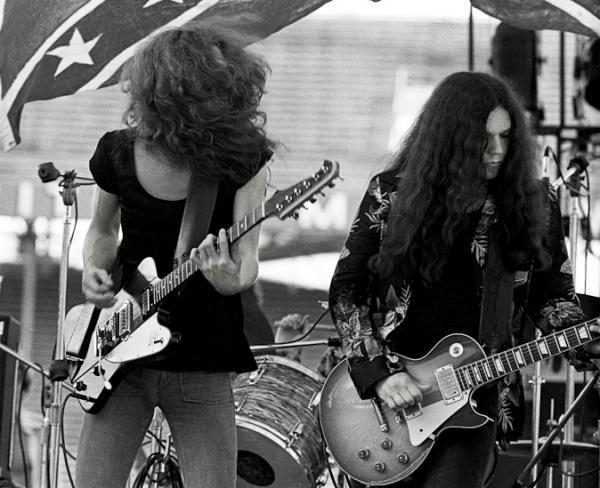 Guitarists Allen Collins (left) and Gary Rossington of the rock band Lynyrd Skynyrd perform at the Orange Bowl during the Holiday Jam '74 Music Festival on July 7, 1974. The festival featured, Lynyrd Skynyrd, The Eagles, The Band and headliner Leon Russell. Rossington was the band's last remaining founding member. He was 71 years old.
The Jacksonville-based group was known as one of the giants of Southern rock in the 1970s and had a number of hit songs including "Sweet Home Alabama", "Simple Man" and the Southern rock anthem "Free Bird". The group was named after their gym teacher Leonard Skinner at Jacksonville's Robert E. Lee High School. Photo by John Gellman.
On October 20, 1977, band members Ronnie Van Zant along with Steve Gaines, Cassie Gaines and assistant road manager Dean Kilpatrick were killed in a horrific plane crash in Mississippi. Other band members (Collins, Rossington, Leon Wilkeson, Billy Powell, Artimus Pyle, and Hawkins), tour manager Ron Eckerman and road crew suffered serious injuries. To read more stories about the Orange Bowl, visit us on Facebook at https://www.facebook.com/ghostsoftheorangebowl
ABOUT US:
For more Miami community news, look no further than Miami Community Newspapers. This Miami online group of newspapers covers a variety of topics about the local community and beyond. Miami's Community Newspapers offers daily news, online resources, podcasts and other multimedia content to keep readers informed. With topics ranging from local news to community events, Miami's Community Newspapers is the ideal source for staying up to date with the latest news and happenings in the area. Additionally, the newspaper has exclusive Miami community podcasts, providing listeners with an in-depth look into Miami's culture. Whether you're looking for local Miami news, or podcasts about the community, Miami's Community Newspapers has you covered.