Mark Lago is running for the office of Mayor of South Miami.
Mark Lago was born and raised in Miami, the son of parents who emigrated from Cuba in 1962.
He attended Florida Christian School from kindergarten until he graduated high school.
During high school, he joined the U.S. Customs Explorer program where he learned about law enforcement, community, and valuable life lessons. He attended the University of Miami, where he received an undergraduate degree in Sociology with a Minor in Business Administration. He was a member of the Sigma Alpha Mu fraternity, participating in philanthropic and charity events. He started a commercial real estate appraisal firm, then was hired by Bayview Asset Management to value commercial construction projects and commercial real estate loan portfolios. He married his wife Rebecca and they moved to South Miami in 2012. Their first child, Hayden, was born in 2014 and their second child, Ethan, in 2016. He then pursued an M.B.A. in Finance at Nova Southeastern, during which time he was promoted to develop a nationwide real estate repair program for the firm's residential properties, eventually managing a $600M real estate portfolio for Bayview.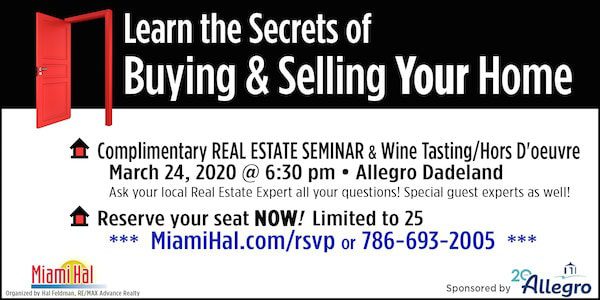 Currently he is a commercial real estate appraiser at BBG, a nation-wide real estate valuation firm where he is currently pursuing an MAI designation from the Appraisal Institute. He was appointed as a special magistrate for Miami-Dade County's value adjustment board. where he is a judge for residential and commercial property tax appeal hearings. Previously, he served on the South Miami Planning Board.
1. What prompted you to run for office?
"I have always been interested in politics at the federal level, but when my wife was appointed to the early childhood education board at the school that are kids attend, that was the spark that caused me to get involved on more of a local level. Once I began to attend the commission meetings and became more involved in the city, I realized I could make a difference in our community."
2. What do you think the most important or urgent issues are for the City of South Miami?
"The most important issue is our downtown and therefore our tax base. Not many people realize that 63 percent of the city revenue comes from our downtown and that our city budget projects a deficit of $2.3M within the next five years. We must implement solid positive initiatives that help promote our downtown and increase the number of patrons."
3. Why do you think you are the best person for the job?
"I know I am the best person for the job because I have relevant job and business experience. I have an MBA in Finance from Nova and an undergraduate degree from the University of Miami in Sociology and Business. I was a portfolio manager where I managed a team of people and a $600M portfolio. I am a certified general real estate appraiser and I am a special magistrate at the County's value adjustment board. As a result, I understand what great leadership is and how decisions have negative unintended consequences. I also understand that for the city to thrive and succeed, we must work together to solve our most pressing issues. My wife and I love living in this city. It is such a nice community filed with so many wonderful people and things to do. It has been a great place to raise our children and I love being involved in this community."
His campaign website is www.marklago.com.