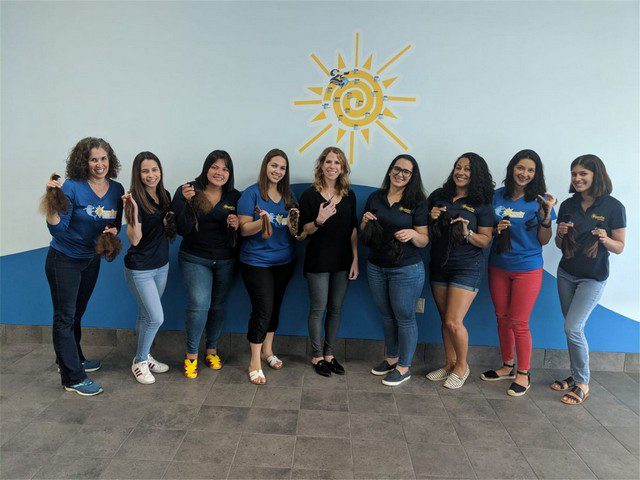 Fourteen team members from Ocaquatics Swim School locations cut 8 to 12 inches of their hair to donate it to Children With Hair Loss. The Aug. 27 event took place at the Ocaquatics Swim School Eureka facility near Palmetto Bay and Cutler Bay.
Children With Hair Loss is a non-profit organization that provides human hair replacements at no cost to children and young adults facing cancer treatments, alopecia, trichotillomania, burns and other medically-related hair loss.
"It was an amazing and fun day," said Miren Oca, owner of Ocaquatics Swim School. "We collected 36 ponytails from our 14 amazing team members."
Hairdresser Dina Acle donated her time to cut off the ponytails. "It is incredible that such a simple act can bring happiness to someone's life," said Greidy DeArmas, financial manager of the Ocaquatics Swim School. "I am grateful for this amazing opportunity and being able to support such a great cause."
Camila Julien, general manager of the Ocaquatics Swim School Kendall location, was pleased to help.
"We are so glad to be making a positive impact in the children's lives by donating to such a great cause," Julien said.
Daniela Canchon, general manager of the Ocaquatics Swim School Tropical location, felt the same way.
"We love making a difference together," Canchon said. "We are already planning to do this again as a team in a few years once our hair grows out."
Jennifer Banos, manager-in-training of the Ocaquatics Swim School Tropical location, was one of the other participants.
"I am so glad we have the opportunity to do something as personal as donating our hair to help bring children with cancer a little more happiness into their lives," Banos said.
For information about Children With Hair Loss visit https://childrenwithhairloss.us/. To learn more about Ocaquatics Swim Schools visit www.ocaquatics.com/.