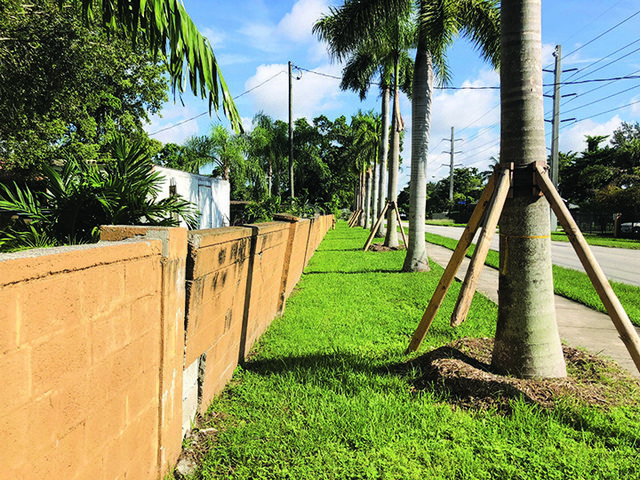 Every time I drive by the corner of SW 64 St. and SW 62 Ave., I play back in my head that famous line from a speech by President Reagan in West Berlin, "Tear down this wall!" But there's no cheering, just crickets, and I drive on.
The wall I'm riled up about is here in South Miami, can be seen on the northwest corner of SW 64 St and SW 62 Ave. It goes north for a few blocks and then continues west for a block or so. The wall was built decades ago – many many decades ago – and is now showing its age with lots of ugly cracking and metal bars jutting out, revealing the internal structure that used to give it strength. But not any more.
Some parts of the concrete wall are leaning, and I mean really leaning. And although I didn't touch it, I'm pretty sure it's not up to par. Putting aside the holes in the wall and the graffiti that adorns it in may spots, as well as the color of the wall, certainly it's at a point in time where we can see it's totally outdated.
Just wondering who is going to take care of that wall that used to divide us.
To make matters even more baffling, the city is about to demolish the partially built home on SW 62 Ave and _____________.
For some reason, the home, which was to be donated by a charity, was constructed directly underneath power lines… What?
Yup… the City of South Miami and perhaps a few other fine folks made a boo-boo and mistakenly allowed this home to be built in the first place. Not sure how much this little faux pas will cost, but I hear that city administration is going to spend some $300,000 to secure a replacement home for the family that was originally hoping to move into that albatross of dwelling, now slated to be razed.
Las Personas Notables
So anyhoo, I was over at Casa Cuba Restaurant the other day for both breakfast and lunch and ran into a few folks. If you're hungry for details on details, here's who they were (in no particular order):
Wayne Brackin, Dr. Jorge Blanco, Tom Byrn, Obdulio Piedra, Justo Puza, Maria Elvira Salazar (running for congress), Bruce Turkel, Javier Hernandez, State House Rep Javier Fernandez, Horace Feliu, Gabriel Varona, Frank Mendez, Gary Rackear, and Nubia Medina. Phew, that was a bunch of folks.
Funky News…
In the funky news department: Is there yet another lawsuit about to be filed against a city official and is there really a police investigation going on into the shenanigans by at least one city official. Can't tell you anymore right now, as I have been sworn to secrecy, but just as soon as I am released from my cone of silence, I'll let you know. Should be lots of … fun, for lack of a better word.
And while we're at it, is it true that the city, or its insurance company, just paid out a half million bucks to a guy that got shot by a cop a few years ago. And no, the victim did not die.
By the way, the next South Miami election just some 14 months away. Hopefully, there will be some qualified folks that will file and run a campaign good enough to win.
Old School Works
Some swear that LinkedIn, Facebook, and other social-media channels are the be-all, end-all of business networking. If this truly were the case, you'd think chambers of commerce would have boarded up their doors and bowed out years ago. But the fact is, today, more than ever, there seem be more chambers – especially right here in our neighborhood.
While so many folks these days are looking down at their cell phones for a connection, smart business people still see the value of looking up – directly into the eyes of their peers, shaking their hands, and enjoying a productive hands business lunch together. It appears "old school" still works in the business world.
And apparently it works well. Judging by the number of local chambers, from South Miami to Cutler Bay and West Kendall, you could literally spend every single business day at a chamber function – and probably go broke in the process! But the point is, Chambers have found ways to evolve and thrive by co-existing with cyber networking.
Consider this short list of local chamber meetings taking place over the next month:
Greater Kendall Business Association
Networking Luncheon
September 27, 11:30 a.m. – 1:30 p.m.
www.greaterkendall.com
South Dade Chamber of Commerce
September General Membership Luncheon
September 27, 11:30 a.m. – 1 p.m.
www.southdadechamber.org
Cutler Bay Chamber
Cutler Bay Business Association
Monthly Networking Luncheon
October 11, 11:30 a.m. – 1 p.m.
www.cutlerbaybiz.com
Pinecrest Business Association
Networking Luncheon
October 16, 11:30 a.m. – 1 p.m.
www.pinecrestbusiness.com
Chamber South
Monthly Membership Breakfast
October 24, 7:15 – 9 a.m.
www.chambersouth.com