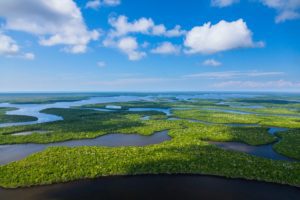 The newly released United Nations' Intergovernmental Panel on Climate Change (IPCC) report contains stern warnings for Florida while stressing the critical importance of wetland restoration in mitigating climate change impacts.
"We need large scale ecosystem restoration, from ocean to mountaintop," said Inger Andersen, executive director of the United Nations Environment Programme. "We need to protect and restore wetlands for nature. Backing nature is the best way to adapt and slow climate change, while providing jobs and boosting economies."
This rings true in Florida, where for the past two decades, we have been undertaking the world's largest ecosystem restoration project — the Comprehensive Everglades Restoration Plan (CERP). Everglades restoration is one of our most valuable tools in combating the effects of climate change and securing the future of our main economic drivers — real estate, tourism, and recreation — all of which depend on clean freshwater.
"One significant benefit of re-hydrating the Everglades is restoring the carbon sequestration capacity of this massive peatland," said Dr. Steve Davis, hief science officer of The Everglades Foundation. "At present, the Everglades is often deprived of freshwater in the dry season, and overdried areas of the Everglades become carbon emitters through fire or peat soil oxidation."
The Everglades wetlands span nearly 3 million acres and, when hydrated, this massive marsh sequesters carbon from the atmosphere, storing it in organic peat soils. Mangrove forests around the coastal Everglades also sequester carbon, with an estimated $3.4 billion value in carbon storage.
The carbon sequestration capacity of the Everglades is essential to the fight against climate change, but it can only work when a southerly freshwater flow into the Everglades is restored. This can be accomplished by completing the critical water infrastructure projects authorized by Congress as part of CERP, most importantly, the Everglades Agricultural Area (EAA) reservoir south of Lake Okeechobee.
A drier Everglades and rising seas, due to climate change, also threaten South Florida's drinking water.
"The impact of sea level rise around the Everglades has been exacerbated by the reduction in freshwater flow," Dr. Davis said. "Everglades restoration will help abate saltwater intrusion into South Florida's wells and protect the freshwater supply desperately needed by South Florida's growing population."
Everglades coastal wetlands act as buffers against hurricanes and storms. Mangroves provide invaluable environmental benefits including stabilizing the shoreline, reducing flooding from storm surges, and protecting habitats. In order to realize these natural benefits we must "let nature do the job it spent millions of years perfecting: absorbing and channeling rainwater and surging waves, maintaining biodiversity and balance in the soils so that diverse plants can grow, providing cooling shade under leafy canopies," Anderson said during UN's IPCC press conference.
The nearly 2,000-page IPCC report, a collaboration of more than 270 scientists from 67 countries that encompasses 34,000 scientific reports, paints a bleak picture overall.
According to the report, tidal flooding from sea level rise already has led to nearly $500 million in lost real estate value from 2005 to 2016 in Miami-Dade alone, with even greater losses on the horizon if we maintain the status quo. The report also mentions the harmful algal blooms along Florida's west coast that led to massive economic losses. Restoring the freshwater flow also will decrease blue-green algae blooms in the Gulf Coast produced by Lake Okeechobee discharges to the east and west coasts.
Florida's environment is its economy. Climate change could have a devastating impact on Florida's unique and valuable environment. Tourism, real estate and recreation are essential industries that depend on a healthy Everglades.
"Humanity has spent centuries treating nature to be our worst enemy. The truth is that nature can be our savior — but only if we save it first," Anderson said in her closing remarks.
Everglades restoration is about restoring Florida's historic freshwater flow as nature intended and should be viewed as a water sustainability plan for all of South Florida and a key tool in our resiliency plans. Climate change and sea-level rise create even more urgency to restoring the Everglades ecosystem faster so we can protect our water supply, protect the existing carbon stocks across the Everglades, and help the more than 2,000 species of plants and animals that also call South Florida home.