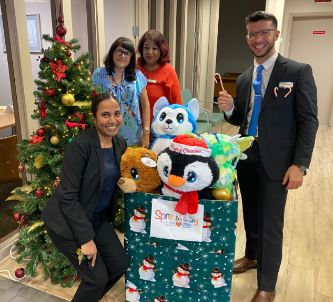 University Credit Union brightened the lives of hundreds of children this year in its annual toy drive for Nicklaus Children's Hospital.
"Our employees really came through, collecting 388 toys for the patients of Nicklaus Children's Hospital," said University Credit Union President/CEO Michael J. Welch, Sr. "We've done this for about 10 years and the team here at University Credit Union really enjoys the feeling of giving. Not only did our employees donate but University Credit Union's members also brought in toys and helped the effort."
Human Resources Professional, Michelle Campana and Assistant Vice President of Branch Operations & Compliance, Sahada Alcazar coordinated this year's toy drive for University Credit Union.
"We have four credit union locations in Miami-Dade County and have been serving the community for 74 years," said Welch. "We offer a wide selection of deposit and loan products, in addition to many other financial services, for individuals and businesses in Miami-Dade County."
For more information, please visit University Credit Union or call 786-425-5000.