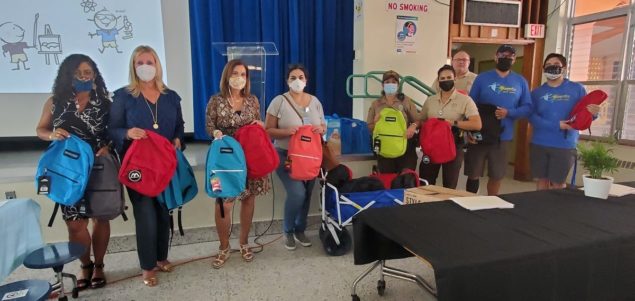 Palmetto Bay Mayor Karyn Cunningham initiated a backpack giveaway program in 2017 to benefit underprivileged children, prompted by her background as a teacher in the school system.
Area swim school, Ocaquatics, has participated in the effort, as has the village policing unit.
This year a total of 75 backpacks were donated on Aug. 18 before the start of school, thanks to the effort.
"This is the fifth year that I have worked with our police department and local swim school, Ocaquatics, to distribute backpacks to the local schools," Mayor Cunningham said. "As a longtime educator, I know how important it is for children to feel excited for the start of the school year. The donated items allow our school administrators, counselors, and teachers to identify any family in need and provide them with new supplies to start the year."
Mayor Cunningham purchased 50 backpacks herself. Ocaquatics owner Miren Oca and her staff and school parents tirelessly collected additional backpacks and essential school supplies and brought them to Palmetto Bay. Then village staff, members of the village policing unit and Ocaquatics staff worked on the assembly and distribution of the back-to-school kits to area schools.
"We are grateful to have this opportunity again to work with the mayor and the police department of Palmetto Bay for the backpack campaign," Oca said. "Our Ocaquatics families responded with great generosity and helped us collect so many school supplies to fill the backpacks for children who need extra resources this year. During these complicated times we felt that it was even more important to share with our community and help all children get a great start to the school year."
After the previous year of pandemic lockdowns and altered classes, getting the return to school off to a positive start was intended to have an impact in the village.
For more information visit www.palmettobay-fl.gov and www.ocaquatics.com.