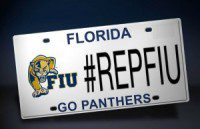 After more than 10 years, a new FIU license plate is now available through the Florida Department of Highway Safety and Motor Vehicles (FLHSMV). The plate has been completely redesigned, featuring the university's logo and mascot, Roary the Panther, on a white background.
The specialty plate is available through all Motor Vehicle Service Centers in Florida for a $25 annual fee (plus registration fees); proceeds benefit the university's general scholarship fund. To register a new plate through the FLHSMV, the plate must be purchased within three months of your registration renewal deadline.
If it's not within three months of your registration renewal date, the plate can also be purchased online through Florida Specialty License Plates, a privately owned company not affiliated with the FLHSMV, but the price of the plate is more expensive.
For those who already have the old FIU plate, the same guidelines apply to switch to the new one.Three other designs have been introduced to the public since the FIU license plate was enacted in 1987, the most recent plate being FIU gold with an old logo the university no longer uses.
"Now is the time for the FIU family to show their Panther pride by getting the all-new FIU license plate," said Associate Vice President of Alumni Relations and Executive Director of the FIU Alumni Association Duane Wiles. "It's also a great way to support our students, as proceeds directly benefit scholarships. With more than 2,000 FIU plates currently on the road, we look forward to seeing that number immensely increase."
The FIU Alumni Association encourages everyone who buys the new plate to share a picture on social media using the tag #RepFIU.