FIU's Adam Smith Center for Economic Freedom fall 2022 senior leadership fellows will include distinguished national and international public servants.
The semester-long program brings prominent public servants to FIU to lead, along with invited guests, weekly not-for-credit, off-the-record student seminars, participate in talks and panel discussions, be available to meet with and mentor students, and serve as a resource for the university community.
"As the university celebrates its 50th anniversary, the Adam Smith Center is deeply honored to welcome to our community a group of public servants of the highest caliber," said Carlos Díaz-Rosillo, founding director of the Adam Smith Center. "These senior leadership fellows, in addition to inspiring future generations of leaders through their teaching and mentoring, will join other accomplished world leaders who will visit our center in a series of marquee public events that will shed light on some of the most complex public policy issues facing the world."
The first public event with the Senior Leadership Fellows will be Thursday, Sept. 22 at 4 p.m. (EDT) at MARC 290 (Pavilion) on FIU's MMC Campus, 11200 SW 8th St., Miami, 33199. The fall 2022 Senior Leadership Fellows will participate in a conversation with Díaz-Rosillo about the fellows' vision for their stay at the university and their views on the state of freedom in the world today.
The center also will host the president of Paraguay, Mario Abdo Benítez, on Friday, Sept., 23 at 10 a.m. (EDT) at MARC 290 (Pavilion) on FIU's MMC Campus, 11200 SW 8th St., Miami, 33199. Abdo will discuss the challenges facing democracy.
Registration to attend the events in person or join virtually is open.
The Fall 2022 Senior Leadership Fellows include: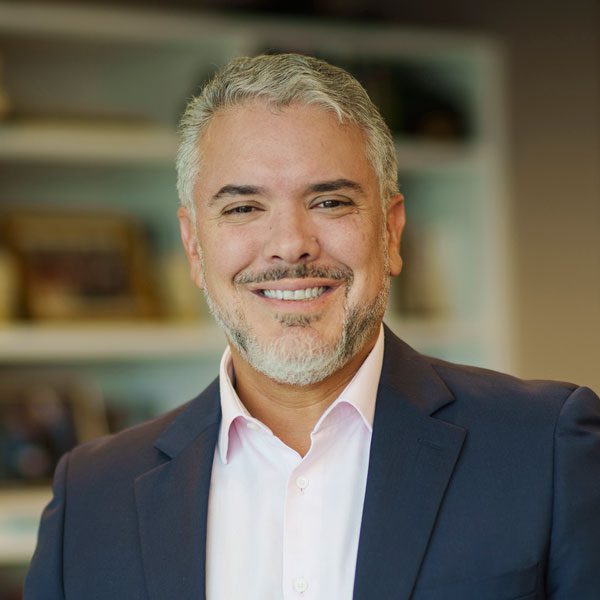 Iván Duque Márquez, president of Colombia from 2018 to 2022. He also served as senator from 2014 to 2018. Previously, he was a senior advisor for Colombia at the Inter-American Development Bank and worked in Colombia's Finance and Public Credit Ministry. He will teach about "Leadership in times of VUCA (Volatility + Uncertainty + Complexity + Ambiguity)."
"It is a great honor for me to be part of the Adam Smith Center. I am very grateful to them for giving me a space to share my experiences with this amazing team in promoting democratic values, addressing the climate and migration crises, and encouraging entrepreneurship and equity," Duque said. 

Ava Rossana Guevara, vice president of  Honduras from 2014 to 2018. She also served as the first ambassador of Honduras in Italy (2010 -2011) and Brazil (2011- 2012).  Prior to her government service, she was a renowned journalist. She will teach about "The Faces of Leadership in Latin America."    "In these times of global uncertainty, it is very important to know our past, understand our present, and build a better future. I congratulate the Adam Smith Center for inspiring future generations of leaders. I am honored and grateful to be able to learn from them as we try to build a more just and equitable world, a truly free world. As Adam Smith said 'No society can prosper if the majority of its members are poor and unhappy'; Humanity's main commitment is to protect its greatest treasure: its real freedom," Guevara said.
 Paula J. Dobriansky, United States undersecretary of state for global affairs from 2001 to 2009. She was also head of delegation and lead negotiator on U.S. climate change policy and the president's envoy to Northern Ireland. Her previous senior government positions include director of European and Soviet Affairs at the National Security Council and deputy assistant secretary of state for human rights and humanitarian affairs. She will teach about "Navigating U.S. Foreign Policy Decision-Making."
"It is both an honor and privilege to be a Senior Leadership Fellow at FIU's Adam Smith Center for Economic Freedom. The Center's mission is a crucial one which will significantly benefit the next generation of leaders," Dobriansky said.