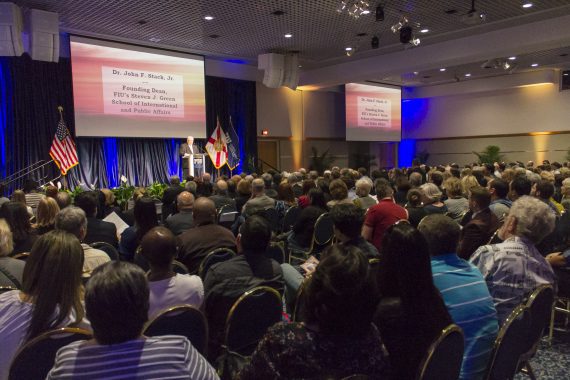 Friends, family, students and colleagues gather to remember Rebecca M. "Becky" Salokar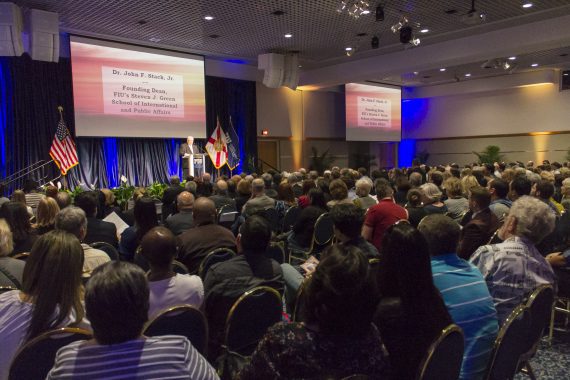 Back in 1985, Amaryllis Garcia remembers taking her first upper level political science course.
She remembers a young woman sitting at an empty desk, talking to everyone. The woman walked to the front of the room and wrote the course name on the board.
Garcia, now an attorney and adjunct professor at FIU, realized the young woman she thought was another student was in fact the professor.
"She said she had just started teaching at FIU and had been a drill sergeant in the military. I thought to myself, she's going to be really strict, maybe I should drop," Garcia said. "She then told us her name was Rebecca Salokar and told us 'You can call me Becky.' Then I said to myself, she seems like a good person. It's going to be okay."
Salokar, associate professor and former chair of the Department of Politics and International Relations, died Dec. 19, 2016 after a long battle with cancer. She had been with the university for more than three decades.
Faculty, staff and students from the Steven J. Green School of International and Public Affairs and around the university recently joined Salokar's family and friends for a celebration of life in her honor.
"Determined, engaged, committed, energetic and wise, Becky was – as her Ph.D. major professor Marie Provine wrote – a "force of nature," said John F. Stack, founding dean of the Green School. "Becky not only thrived in her own life – she helped others to thrive in theirs. Because she was so comfortable in her own skin, she made people feel more comfortable in theirs."
Prior to her academic career, Salokar was a drill sergeant at the U.S Army Training Center in Fort Jackson, South Carolina.
Retired Circuit Judge Judith Rubenstein, Salokar's wife, said Salokar's goal for herself was to be the best that she could be and encourage that in every person she met.
"When Becky joined the Army, she became everything she could be by becoming a drill sergeant," Rubenstein said. "Her job was to make every single solider under her command be the best that they could be."
Salokar began her academic career in 1979 at FIU, where she graduated with a bachelor's degree in political science and later earned a master's degree and Ph.D. in political science from Syracuse University.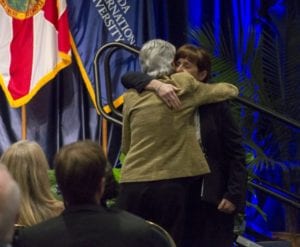 Her path led her to a position as an associate professor of political science at FIU.
"Teaching was natural choice for Becky. It was a job where she could feed her thirst for knowledge and fulfill her desire to be a role model," Rubenstein said. "It was a way where she could take young minds and empower them."
Some of her students went on to become judges and lawyers. Salokar inspired Garcia to become a political science professor at FIU.
"She told me to teach a class here and I said to her, 'I've never done that but yes, Becky, I'll do it,' and she guided me through it step by step," Garcia said. "She taught me to be a better student, a better teacher, but more importantly a better person."
Salokar was known as a professor who inspired and motivated her students.
"What she loved most was teaching students and motivating them to reach their full potential. Every opportunity with her was an opportunity for learning and self-realization," Garcia said. "She was a constant cheerleader and was always confident that her students, young or old, could achieve anything if they worked hard. She believed in us more than we believed in ourselves."
In 2009, Salokar fulfilled her dream to earn a law degree, graduating from FIU's College of Law, finishing second in her class. This was followed by a federal clerkship with one of her former classmates, U.S. District Judge Cecilia Altonaga.
"She seamlessly changed our roles from colleague and university professor, to a trusted member of my team," Altonaga said. "Over the years, she became one of my closest and dearest friends."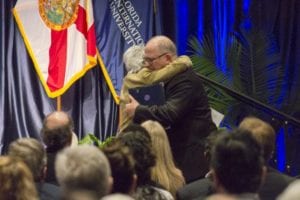 With her newfound law degree, Salokar established and directed FIU's Pre-Law Advising and Training Office (PLATO), an advising center for students interested in law school.
"She was always there for our FIU," said FIU President Mark B. Rosenberg. "She was conscientious, responsible, frank, candid and authentic."
In memory of Salokar, FIU has created the Rebecca M. Salokar Scholarship Endowment, a legacy of her generosity and commitment to students. The scholarship will benefit students in the department of political science and international relations who plan to enroll in the College of Law.
"It is so hard to believe that someone so large and vibrant is gone," Rosenberg said. "But nothing can rob us of the sustaining impact of her authenticity as a human being, a friend, a coach, a mentor and a colleague. We will miss her dearly."
To view Becky Salokar's Celebration of Life , click here.
To view photographs from the celebration, click here.