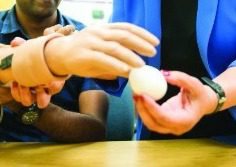 At this year's eMerge Americas conference, FIU is showcasing new companies associated with StartUP FIU, in addition to scientific breakthroughs and new technologies designed to improve life for humans and creatures from the deep
 "eMerge Americas has become a magnet for innovators, entrepreneurs and investors from South Florida, the Americas and beyond," said FIU President Mark B. Rosenberg. "We look forward to sharing our best projects at eMerge and drawing on the creative energy that permeates this event."
The two-day exhibition portion of eMerge Americas takes place Monday and Tuesday, June 12 and 13, at the Miami Beach Convention Center. The FIU pavilion is in section C1, between the Facebook lounge and the Hiring Market.
On Monday at 11:20 a.m. Rosenberg will present on the eMerge stage the role of universities in preparing students to be entrepreneurial and find solutions to the challenges of the 21st century economy.
For the first time this year, FIU will feature companies incubated at FIU's own accelerator, StartUP FIU.
PilotVR developed innovative virtual reality goggles that bring patients into an interactive virtual world, marrying motions needed to complete physical therapy with gaming technology, to create a more engaging experience. By programming therapy sessions through the technology, physical therapists can work with several patients at the same time.
Stealth Simulations has developed a device for students who participate in simulated patient encounters with actors as part of their medical training. The DxBAT attaches to the student's stethoscope and makes sounds correlating to illnesses the actors simulate. The DxBAT also incorporates location and synchronization features to create a more realistic clinical experience.
Addigy is a cloud-based IT management platform designed specifically for Apple (Mac) users. Although few companies offer such a platform for Macs, the use of the computers is expected to grow as more Mac-devoted millennials enter the workforce.
As Miami's only public research university, FIU is always looking for solutions to society's most pressing challenges. Several of FIU's most recent innovations will be on display at eMerge:
Additionally, on Monday at 4:10 p.m. on the Texpert Stage, Life Sciences South Florida (LSSF), spearheaded by FIU's Office of Engagement, will host a panel about innovation in healthcare technology. Daniel Cane, CEO & co-founder of Modernizing Medicine, will be the moderator of the panel featuring key life science ecosystem drivers. At 5 p.m. LSSF will host their annual Lifees award ceremony at FIU's Miami Beach Urban Studios. The event recognizes industry leaders for the life sciences work they are doing with students, researchers and higher education institutions.