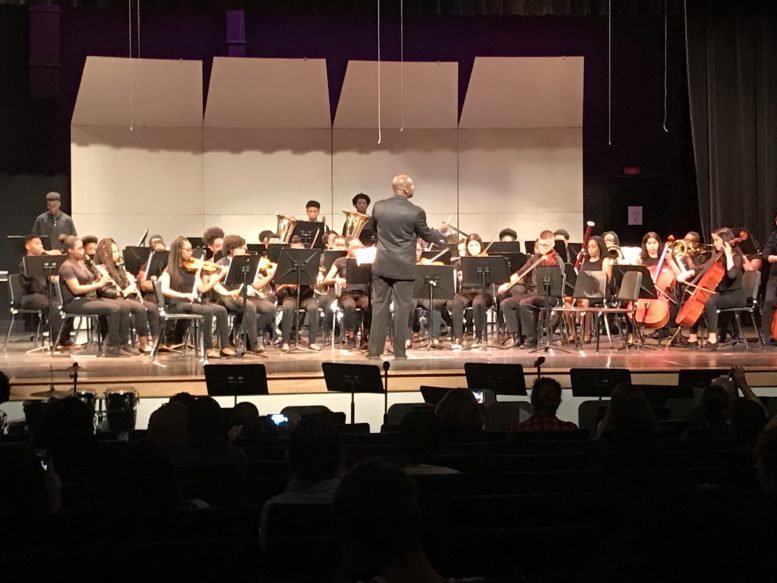 The familiar sound of pounding drums could be heard throughout the hallways of Dr. Michael Krop Senior High School. A group of students congregated in the auditorium, practicing, trying to coordinate their cadence.
Sitting and observing the students hone their craft were Tanisha Cidel '00 and husband Bringle Cidel. The Cidels were leading a rehearsal for the Evolutionary Arts & Entertainment summer camp's final performance that evening.
Tanisha turned her attention to two young soloists singing Like Him from the musical Tap Dance Kid. She jumped on stage to speak with the performers, helping them perfect their pitch before that night's performance. The students follow suit trying to hit the same notes as her.
This was a typical scene at the summer camp. Tanisha, who played the principal in this year's Oscar award-winning film Moonlight, started an arts camp this year when she realized there was talent in Miami that was not being cultivated. She felt that with this new-found connection she had to the industry, she could show that there is talent in Miami that's going unrecognized.
"A lot of kids in the underserved areas that I teach don't have money to go to college. But they have this raw talent. They don't have the opportunities or the programs to cultivate the talent," she says.
For Tanisha and Bringle, the camp's mission is to provide students the opportunity to enhance their skills despite their financial situation. More than half the campers attend on scholarships funded by the Cidels and Commissioner Barbara Jordan.
"It's not about the money for us. The reality is that some parents can't afford it. So what do you do, not give them the opportunity? And then what happens? They don't get to learn and explore. That's not fair. That leads to so many disparities in the world today," says Tanisha, who majored in theater at FIU.
Among the students who have benefitted from Tanisha's theater program are Jaden Piner and Alex Hibbert, who star alongside her in Moonlight. Piner plays Kevin and Hibbert plays a young Chiron. The two actors were given the opportunity to audition for their respective parts in the movie through their work with Tanisha, who was contacted by film director Barry Jenkins. He told her that he had heard good things about her magnet theater program in Miami and her work with young black talent. Jenkins and the film producers flew in from Los Angeles to meet with Tanisha and to audition her students from Norland Middle School. A total of 17 students and alumni from the school had roles in Moonlight.
Current camper Frantz Dorcin also has thrived with the coaching of the Cidels. He is now a section leader for Dr. Michael Krop's drumline. Dorcin, who has been working closely with Bringle since his freshman year, has learned the ins and outs of a drumline and how to perfect a cadence. This summer he was entrusted with coordinating a feature for the final showcase.
"Mr. Cidel has taught me how to be a leader. As a section leader of the drumline, anytime something went wrong he would help me improve and move on. I was able to coordinate a feature and teach it to the other students while teaching them a bit about discipline, too."
The four-week camp ran five days a week from June 26 to July 20 and was broken up into two sections. Students who wished to hone their music skills attended the Musicians Intensive Summer Camp of Miami. And those who wanted a taste of the theater or to learn about performing arts skills attended the iACT, iSING, iDANCE Workshop Series, which were typically held over the weekend and took place at the Adrienne Arsht Center. Tanisha is director of the recognized program, AileyCamp Miami.
During the intensive four weeks, students were exposed to a professional arts setting. The Cidels choreographed various dance numbers, provided acting lessons and pushed campers' boundaries, challenging them to hit notes they never thought possible — all things Tanisha says she learned while at FIU.
"I attribute my success to FIU because I have taken what I learned there and applied it within my community. I learned the process of how to put a musical together, the costumes, sets and how all of that works in a professional setting while at FIU. Because of that, my students can get a firsthand look of what a professional theater may be like," Tanisha says.
As part of Tanisha's continued mission to promote arts education, she ensures that at the end of every school year her students at Norland Middle School, where she is the director of the theater program, put together full productions. The performances have included Lion King, Annie and Aida.
Hope Jean, who Tanisha worked with on her admission to New World School of the Arts, attended Tanisha's acting workshops regularly and is grateful for her guidance.
"I've been working with Mrs. Cidel for three years and she has taught me a lot of dance, music and theater techniques. I'm able to take what she teaches me in these workshops and apply them at the school that I go to now and have a head start," Jean says.
Bringle, who a holds a Masters of Music in Composition from Florida Atlantic University and a Bachelor of Music Education from Florida A&M University, exposed students to the world of music providing them with a range of programming – from exposure to their very first instrument to teaching a senior student how to be a drum major.
"We've had a great teacher. Mr. Cidel has given us everything that he knows. He's taught us things about concerts and jazz. I've learned a lot of musical techniques and have grown socially," says trombone player Shamica Colas.
As the campers got in costume and applied their makeup for that night's showcase, the sense of pride experienced by the Cidels was obvious. They were beaming with joy over all their students had accomplished in just four short weeks.
"For us to expose them, to cultivate the talent here in Miami and see that light shine – or for them to say 'this is interesting, rewarding. We can do things like hip hop orchestra and watch them learn and love to learn.' That makes the day special for us," Tanisha says.
Evolutionary Arts and Entertainment will host another showcase in December for students who sign up for the fall workshop series. For more information on the camp or to register for the fall workshops contact evolutionanryarts05@gmail.com.