FIU biologist Steve Oberbauer is back at Toolik Field Station — one of the world's most remote research sites, located hundreds of miles above the Arctic circle. Spending time in one of the harshest, most unforgiving environments on Earth would change anyone. But, Oberbauer has changed very little. In some ways, the 64-year-old still resembles his younger self — the one who first traveled to Toolik in 1985 when he was 30. His curly hair is only slightly greyer. He's still slender. Although he is the shortest of his two brothers, Oberbauer still towers over most people at 6 feet 5 inches tall. And he still wears a bright blue puffer jacket — an upgraded version of the one he bought more than 40 years ago for $20 that never kept him warm enough.
The Arctic, on the other hand, has changed.
"There's always been changes. Just not this fast," said Oberbauer, who is a botanist in FIU's International Center for Tropical Botany at the Kampong.
The Arctic is warming at twice the rate of anywhere else on Earth. It's in the midst of a dangerous transformation. The rules are unraveling. Timing is being thrown off track. Oberbauer has had a front seat to these changes: The tundra soil is breaking down. Permafrost is thawing at the surface and collapsing. There are more shrubs, less moss and less lichens. Plants are growing taller and flowering earlier in the season.
"What happens in the Arctic is important globally. There's enough carbon in the tundra that if it were to thaw and that carbon release, that's at least twice of what's currently in the atmosphere," Oberbauer said. "We're better off if things stay frozen."
But, things aren't staying frozen. This is why every summer, before the snow melts and the plants on the tundra begin to green, Oberbauer climbs behind the wheel of "Big Red" — a Ford F-350 Super Duty truck — and sets out north from Fairbanks, Alaska.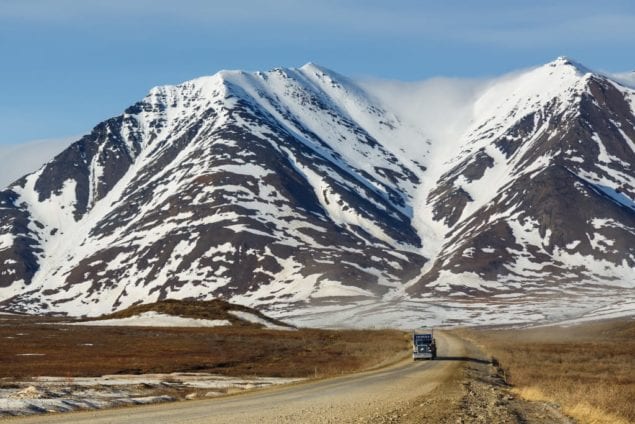 The 10-hour journey is treacherous.
The Dalton Highway is narrow with sharp curves. It snakes up steep hills and past snow-laced mountain ranges. Unpaved in parts, the road almost disappears into the landscape, giving way to gravel that's full of rocks and potholes. It would be safer to find another route, but there aren't any.
So, he drives through a wild land and all its wildlife. There is a moose standing at the edge of a bog, a lone caribou searching for lichens, a Dall sheep grazing on grasses. And always there in the background — behind the animals and stretching alongside the road — is the Trans-Alaska Pipeline.
Oberbauer drives hundreds of miles. He drives until "Big Red" is no longer red, but disguised in a layer of sand and mud. He drives until he reaches Toolik Field Station, nestled in the northern foothills of Alaska's Brooks Range. There, work is waiting for him.
Oberbauer is principal investigator of the Arctic Observatory Network — one of the few projects funded by the National Science Foundation (NSF) to conduct research on the tundra ecosystem. Every year, the FIU team, which includes Oberbauer and post-doc Jeremy May, pick up where they left off the summer before. They continue to capture the changes in the Arctic by documenting what's happening to the tundra plant ecology. This data is extensive and long-term. It's a legacy that will outlast them.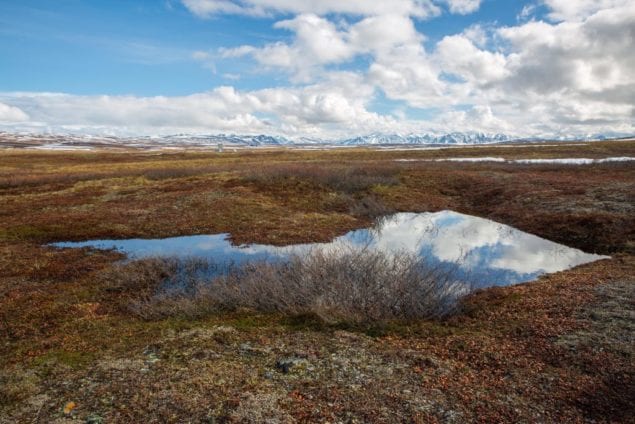 The Thaw
The Arctic tundra is essentially a vast frozen swamp that contains massive amounts of peat — dried, dead organic matter that contains a lot of carbon. For most of the year, this top layer stays frozen and plant growth is hindered by cold temperatures and limited nutrient availability. As temperatures rise and thawing begins, this organic matter decomposes, releasing greenhouse gases into the atmosphere. This triggers an endless cycle of warming.
"As it thaws, the environment warms up and you get more greenhouse gases. Then, it thaws even faster, which produces more greenhouse gases," May said.
With a break from the colder temperatures, the plants are thriving. But, more green isn't good.
Oberbauer was recently part of an international research team that found that tundra-dwelling plants are adapting to climate change by growing taller and with larger leaves. They looked at more than 55,000 plants in arctic and alpine regions, zeroing in on five traits — height, how many leaves they had and their size, how long leaves stayed on throughout the year, the rate at which they converted sunlight into energy and woodiness. Oberbauer believes the plant growth is a result of nutrients being released when the peat thaws and breaks down.
This presents an interesting dilemma: Can the increasing number of plants absorb enough carbon to counterbalance the amount being released? Only time will tell.