Dear District 11 Residents,
Thank you for subscribing to the District 11 e-Newsletter. I am honored to serve as your County Commissioner and invite you to read the monthly newsletter for updates on important County government matters as well as information regarding community events. I hope you find it useful and encourage you to share it with your family and friends.
Spring has sprung everywhere and I'm excited for the month ahead. April is a very busy month and one that recognizes several good causes. Since 1970, Earth Day is celebrated on April 22 and marks the anniversary of the environmental movement that led to the creation of the United States Environmental Protection Agency. This month, we also celebrate National Autism Awareness month to help the nationwide effort to promote autism awareness, inclusion and self-determination for all, and assure that each person with autism spectrum disorder (ASD) is provided the opportunity to achieve the highest possible quality of life. April also celebrates Prevention of Cruelty to Animals month and we can all help by raising awareness on this issue along with Pets Are Wonderful Month which gives everyone the opportunity to honor the companion animals that bring joy and love to their owners' lives.
My staff and I have been hard at work continuing to make sure the needs of District 11 are being addressed. I hope you enjoy reading what we've been up to recently and the exciting events we have coming!
As always, I look forward to you giving me your input and ideas so that I can better represent your needs. I believe with our combined efforts we can work on improving and enhancing our community as well as the lives of all our residents.
Should you have any comments, ideas, or concerns, scroll down to the end of this newsletter for my office contact information.
MEETING SCHEDULE COMMISSION CHAMBER

APRIL SCHEDULE
STEPHEN P. CLARK GOVERNMENT CENTER
Apr 10 – 9:30 am: Board of County Commissioners
Apr 10 – 3:00 pm: Board of County Commissioners and Youth Commission Meeting
Apr 12 – 9:30 am: Chairman's Policy Council
Apr 12 – 1:30 pm: Building Safer Neighborhoods Subcommittee
Apr 16 – 9:30 am: Housing and Social Services Committee
Apr 17 – 9:30 am: Infrastructure and Utilities Committee
Apr 17 – 1:30 pm: Government Operations Committee
Apr 18 – 9:30 am: Parks and Cultural Affairs Committee
Apr 18 – 1:30 pm: Public Safety and Health Committee
Apr 19 – 9:30 am: Transportation and Public Works Committee
Apr 19 – 1:30 pm: Economic Development and Tourism Committee
Apr 25 – 9:30 am: Comprehensive Development Master Plan
Apr 26 – 9:30 am: Zoning Meeting
DISTRICT EVENT UPDATES
Movie Night
Our Movie Night was a lot of fun! Over 400 people came to see "COCO" under the stars at Kendale Lakes Park and enjoyed some tasty treats. The weather was chilly which made for a beautiful night to cozy up together. Can't wait to do it again!



FIU Fast Team Proclamation
It was an honor to present a Proclamation proclaiming March 14, 2018 as FIU-FAST Team Day and provide a Certificate of Appreciation to Bridget Pelaez! I am very proud of the FIU-FAST team and Bridget Pelaez for their selfless acts of serving communities that have been affected by disasters.



MENTORING PROGRAM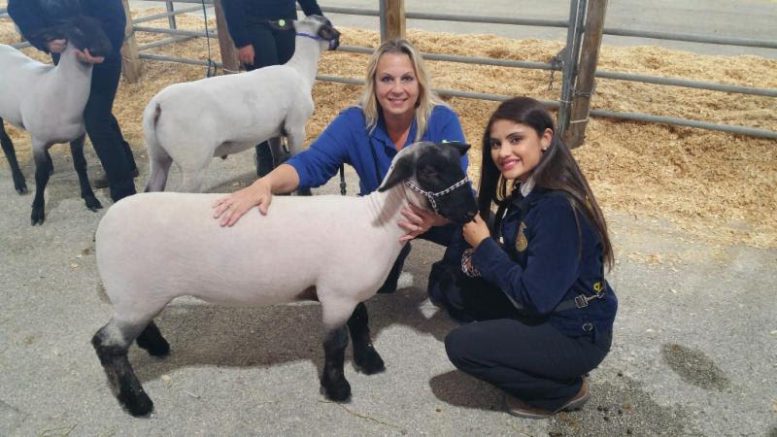 My office was given the opportunity to mentor a high school student from John A. Ferguson High School. Carmen Betancourt, a member of my staff, was assigned to a student. The student is able to interact with individuals who are not familiar with the agricultural industry and be given a teachable experience. Students being raised in an urban area, such as Miami, have to work especially hard to ensure animal safety and health with limited space/resources. This mentoring program allows individuals the opportunity to experience what our students go through on a daily basis; on top of their responsibilities at home and school.
UPCOMING EVENTS
Bring your pet for some fun and help fight cancer with your donation!

Come Join us for a food distribution and visit booths packed with helpful information!
MOM AND POP
SAVE THE DATE FOR UPCOMING EVENTS
CREATIVE VISIONS 2018 STUDENT ART EXHIBITION

I am very excited to announce that I am bringing Creative Visions back. This wonderful project is an opportunity to highlight District 11's Elementary, Middle and High School students art and creativity, as well as recognizing the teachers and parents who dedicate their time to encourage the children to develop their artistic abilities. The artwork will be displayed at the Florida International University Patricia & Phillip Frost Art Museum located at 10975 SW 17th Street on the evening of Wednesday, May 9, 2018 from 6:00 pm to 8:00 pm.
2018 HEALTH & SAFETY EXPO
WHAT'S HAPPENING AROUND THE DISTRICT
– LAST WEEKEND TO ENJOY THE MIAMI-DADE COUNTY FAIR & EXPOSITION –
MIAMI-DADE COUNTY
Office of Commissioner Joe A. Martinez
District 11 Office
4081 SW 152 Avenue, Unit 21,
Miami, FL 33185

email: district11@miamidade.gov