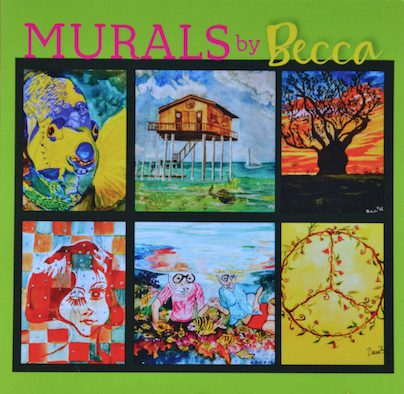 Rebecca Butler has completed her self-challenge to do a painting a day for a year.
Her bright, lusciously saturated and whimsical watercolor paintings have been posted daily on social media hash tagging this feat to promote her art biz, Murals by Becca. Her exhibit is scheduled for Nov. 18, from 6 to 9 p.m., and Nov. 19, from noon to 5 p.m. The venue is HARRISART, located at 4432 SW 74 Ave. in the Bird Road Arts District.
A local author Rafael Lima — Zero Point, Screenwriter, Believe and more, client of Murals by Becca, said of her challenge: "Damn, she keeps pulling artistic rabbits out of hats like a magician. Only she does it every day. Her stuff is vibrant and original with an essence of the Caribbean. Beautiful work!"
Her challenge was brought on by the desire to share the diversity a mural artist needs to have for her client's wishes. Deliciously colorful nautical, whimsical, flora, fauna and exotic underwater subjects are her expertise, yet her website muralsbybecca.com shows her range. When re-launching her business after a four-year sail in the Caribbean with her husband, it was necessary to paint. She is an artist after all, client or not, so paint she did.