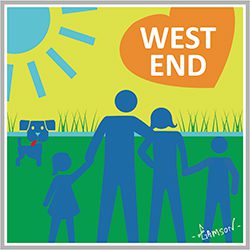 Re-naming West Kendall as the "West End" of Miami-Dade County has set off what appears to be the controversy-of-the-year in its western precincts.
It all began when District 11 Commissioner Juan C. Zapata began his first term in office following his 2012 election with a stated objective to create a new focus on the sprawling area of 200,000-plus residents he represents.
Over the last two years, Zapata has initiated half-dozen programs including the first of several re-naming projects that first gave birth to "Miami Executive Airport" replacing the name, "Tamiami-Kendall Executive Airport."
At the time, Zapata claimed airport operators agreed with him that the change would help boost marketing the airfield as a competitive advantage over Opa-Locka Executive Airport.
Two Municipal Advisory Committees now studying incorporation north and south of Kendall Dr. (SW 88 St.) had their names changed to "North" and "South West End" MACs, rather than the former "Section 1" and "Section 3" designations.
The latest and most controversial change occurred Oct. 20 when Zapata got County Commission approval by a 10-1 margin to rename West Kendall Regional Library as "West End Regional Library" with District 9 Commissioner Daniella Levine-Cava the sole dissenting vote.
The action took place after a near hour-long discussion with Commissioner Barbara Jordan questioning of Zapata's move to change the name of a county entity without a resident petition or referendum supporting the proposal.
Zapata said residents at community meetings had regularly supported projects bearing the "West End" name, including a major West End Art Festival held in April. A handful of residents appeared before the Commission discussion, including Ory Dawes, President of the Country Walk Homeowners Association, who supported the change.
However, Mayor Carlos Gimenez has commented that lacking formal input from the public, he is considering vetoing the Commission action, noting the name change of Dade to Miami-Dade County met County Charter requirements.
"I have lived in Kendall for over 30 years, and this is not the West End," commented Michael Rosenberg, President of Kendall Federation of Homeowner Associations.  "The West End of what: Hialeah, Miami Lakes, Homestead? It does not define where I live and I have received many calls today asking what could be done to stop it.
"Commissioner Zapata should have a contest in which the community submits possible names," he continued.  "On the 2016 ballot, you can put the top five choices up to a vote, with a sixth choice being no change," he suggested, adding:
"Our elected officials need to remember they work for us, and if we want the name changed we'll let you know. Let us vote."
The Miami Herald in an Oct. 21 story recapping the Commission vote reported receiving "dozens of angry online comments protesting the West End name change" following its Oct. 19 story about the pending commission action.
Zapata has defended his campaign to "re-brand the area," based on a massive FIU study he commissioned and launching of a West End Wi-Fi app to create a stronger focus on unincorporated western Miami-Dade's as an economic boon for residents by attract visitors to a more marketable designation.
"The library re-naming is a small but significant step in uniting our western communities – including Country Walk, West Kendall, the Hammocks and Lakes of the Meadows – under a common name that represents the identity of the entire western region," Zapata stated in a press release announcing the library name change.
The $5,132 cost for new library signage, initially designated to be paid from the library's operating county, was changed by a Zapata amendment to come out of his discretionary fund. However, in an Oct. 21 E-mail to constituents beginning "West End Wins!", Zapata stated in bold type: "While the library is a public facility, all costs associated with the renaming will be covered by funds raised from the private sector."