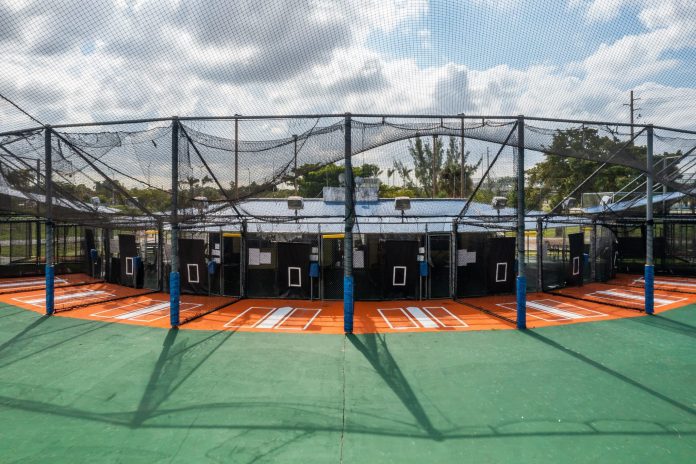 There is a long list of professional baseball players and coaches who developed their swings in the batting cages at Miami's Tamiami Park, home of Swing Kings. One of these is David Espinosa, who owns and operates Swing Kings along with his wife Cristin. After being named national high school player of the year, Espinosa was drafted by the Cincinnati Reds as a first round pick in 2000 and spent the next 15 years playing professional baseball. 
Other baseball greats who spent hundreds of hours in Tamiami Park's cages include Ramon Santiago, former shortstop for the Detroit Tigers and Cincinnati Reds; Paco Figueroa, First Base Coach for the Philadelphia Phillies; Guillermo Martinez, Hitting Coach for the Toronto Bluejays; Hector Crespo, Farm Director for the Miami Marlins; FIU Head Baseball Coach Turtle Thomas; and Danny Figueroa, former baseball star at the University of Miami. 
"I hit at Tamiami Park's batting cages as a boy for many years and it's always been a very important place for me," says Espinosa. "In late 2020, when Miami-Dade County Parks accepted our proposal to renovate and manage the batting cages, the whole operation was run-down and outdated. With the help of my father Elias, we turned the place around, adding shade awnings, painting, installing top-of-the-line turf, new netting and powerful LED lighting for night batting practice."
Espinosa's work and dedication to restoring the Tamiami Park batting cages have been noticed. 
"Since 2021, I've been bringing my kids to Swing Kings, where the transformation David Espinosa has overseen has been fantastic," says former Tigers and Reds standout Ramon Santiago. "It's our favorite place to practice batting, without a doubt."
Toronto Bluejays Hitting Coach Guillermo Martinez agrees. "I grew up hitting at the batting cages in Tamiami Park and and I recently came back to host a hitting clinic at Swing Kings," he says. "Seeing how much has developed recently is amazing. Baseball players from amateur to pro love coming to train at a place that you can depend on. Swing Kings is an incredible place to come hit."
Hector Crespo of the Miami Marlins has fond memories of growing up in Tamiami Park's batting cages. "A lot of hitting and life lessons were learned in those cages," he says. "I wouldn't have become the player or person I am today without them. I'm so happy Espinosa and his wife took over the operation there. They've brought it back to life."
Swing Kings offers eight token-operated batting cages with individual pitching machines and six rental cages for private instruction, team rentals and special corporate events. There are two 90 MPH fastball machines for highly skilled batters. Eighteen pitches costs only two bucks, and veterans and first responders bat for half price. 
"The batting cages at Tamiami Park will always have a place in my heart," says Paco Figueroa of the Phillies. "It prepared us for the next level from high school to college and into the pros. Swing Kings has done an incredible job to bring back what so many kids, myself included, remembered to love about the game of baseball."
Mike Quintana, operator of the private baseball academy Diamond Dreams Miami, had this to say: "The batting cages in Tamiami Park is a staple in the baseball community. The last 20 years have been memorable, but the next 20 will be even better with the improvements being done by Swing Kings."
And Turtle Thomas, Head Baseball Coach at FIU and a legend in college baseball coaching and recruiting, says "David Espinosa has brought these cages a million miles since purchasing them, with more improvements on tap for the future. This is the place to hit in Miami!"
Swing Kings is located at 2201 SW 117th Avenue on the western edge of Tamiami Park. For more information, please follow them on all social media outlets under SwingKingsMIA. You can also visit https://swingkingsmiami.com/ or call 305-723-1931.
ABOUT US:
For more Miami community news, look no further than Miami Community Newspapers. This Miami online group of newspapers covers a variety of topics about the local community and beyond. Miami's Community Newspapers offers daily news, online resources, podcasts and other multimedia content to keep readers informed. With topics ranging from local news to community events, Miami's Community Newspapers is the ideal source for staying up to date with the latest news and happenings in the area. Additionally, the newspaper has exclusive Miami community podcasts, providing listeners with an in-depth look into Miami's culture. Whether you're looking for local Miami news, or podcasts about the community, Miami's Community Newspapers has you covered.