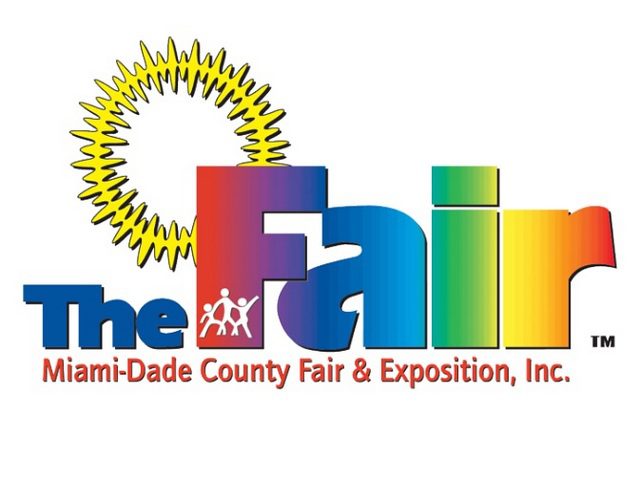 Also, Don't Miss the Horse Shows, Open Steer Competitions,
Horticultural Demonstrations and Much More all at The Youth Fair
The Miami-Dade County Youth Fair & Exposition has a longstanding tradition of supporting agriculture and horticulture education. The Barn and an entirely new area focusing on horticulture is called The Garden. Along with these two areas, fairgoers will be able to see more than 63,000 competitive exhibits from Miami-Dade County students.
Guest will get to come face-to-face with more than 100 breeds and varieties of livestock, animals and poultry under one roof at The Barn, which serves as the home for all The Youth Fair's agriculture shows and competitions. The Youth Agricultural Division allows the exhibitors to showcase and apply what they've learned in school and beyond. Students will showcase their livestock, rabbits and poultry after preparing for the competition for nearly a year.
The Garden is an area that immerses the fairgoer where he/she will be able to enjoy the many and varied products of the Miami-Dade County horticultural industry, workshops with master gardeners with those wanting to learn more about planting a garden. It's the perfect destination within the Youth Fair where fairgoers can relax and have a pleasant time. Visitors can gaze at beautiful landscaping exhibits designed by students and take part in horticultural demonstrations, plus get tips for their own gardens.
The Miami-Dade County Youth Fair & Exposition's goals are to create awareness of South Florida's agriculture and horticulture industries by offering different ways of interacting with nature and science, while also showcasing youth achievement in fine arts, crafts, education, agriculture, science, technology, social sciences, mathematics and robotics.
The Garden
Walking Tree of Life
Landscape Design and Construction Competitions
Horticulture Competitions
Plant Clinics by the 4H Group
Master Gardener Showcase
DIY Information
Home Vegetable Gardening & Edible Landscaping
Musical Entertainment
Volunteers from Miami-Dade County Public Libraries Storytime
Activities for Kids by the 4H and Farm Bureau
Musical Performances every 

Friday

 and 

Saturday

, 

6-8 p.m.
Arnold Hall 
Competitive Student Exhibits – On display inside Arnold Hall are exhibits from students in Pre-kindergarten through 12th grade. Every entry receives an award; each student earns a 1st, 2nd, 3rd or 4th place ribbon. Visit the more than 603,000 exhibits from 40 divisions ranging from crafts to fine arts, posters to popsicle sticks, robotics to Renew, Reuse and Recycle.
Sandscapes Sand Sculpture – An impressive (and Instagram-worthy) work of art will come to life inside Arnold Hall! Visit The Youth Fair between 

March 15 and April 8

 to witness 100-tons of sand as it is being shaped for the opportunity to learn about the art of sand sculpting directly from the experts. Make sure to return 

April 4-8

 to snap a picture with the completed sculpture.
Community Stage in the Mary E. Reilly Coliseum
Both school and community groups will perform at the Community Stage at the Mary E. Reilly Coliseum inside of Arnold Hall. Every day will bring something different and exciting.
Magic Shows with Fritzner Paul
Awards Ceremonies
Fantasy Theatre Factory Performances
Diaspora Arts Coalition
Sport and Dance Studio Performances
World Language Creative Writing
The Barry Mann Orchestra
School Performances
Singer Ian Saunders
Singer and Dancer Migue
Fashion Shows – Categories include sport, formal/evening wear, business/career and up-cycle.
Competitions in the Mary E. Reilly Coliseum 
Coding with Scratch Challenge
VEX IQ Elementary and Middle School Competition
TSA Competition Metric 500
iCode Me Challenge
VEX Robotics Competition
BattleBots Robotics Competition
Lego Education
Lego Construction Competition
Performing Arts at FIU's Wertheim Performing Arts Center
There will be a variety of competitions and other exciting presentations taking place March 17 – April 8.
Dance, Instrumental, Vocal, Piano & Drama Competitions
World Languages Performing Arts
The Barn Youth Competitions, Shows & Exhibits
The Youth Agricultural Division allows the exhibitors to showcase and apply what they've learned in school and beyond. Market Steer, Market Hog, Youth Lamb, Poultry, and Rabbit exhibitors can showcase their breeds qualities and strengths through bathing/fitting & grooming and showmanship.
Cavy, Equine, Poultry & Rabbit Shows
Market Animal Show (Steer, Lamb & Hog)
Howdy's Barnyard featuring a Goat Mountain, Pigs plus Cow Milking Station
Howdy Appearances on 

March 17, 18

, 23, 24, 30 and 31 & April 

7-8, 5pm to 8pm

Howdy Field Trip on April 3rd
Sudsy's Barn at The Barn
Who knew hand hygiene could be so fun? Sudsy's Barn is a one of a kind hand wash station promoting clean hands nationwide. If you miss a spot or don't wash your hands long enough, Sudsy's Barn will make sure to let you know.
The Peep Show
An incubator where visitors can watch the miracle of hatching chicks peck their way out of an egg every day of The Youth Fair.
Milking Station
The milking station gives fairgoers a brief insight into the world of dairy cattle and the dairy industry. They are given a unique opportunity to view first-hand how dairy cows are milked.
Horse Shows and Ranch Sorting
Experience South Florida's premier horse shows, events and competitions. Teams from across the United States will travel to Miami for a chance to compete for top prizes. Speed, precision, and strategic planning are key in the sport of Ranch Sorting. Watch as teams of riders move quickly on horseback to sort cattle
in this timed and exciting event.
Saturday, March 24, 10 a.m. – 11:30 a.m.     Ready, Set, Show Open Horse Show Clinic
Saturday, March 24, 12 – 4 p.m.                    Youth Horse Show (English Horse Show 12 p.m., Western Horse Show, 2 p.m.)
Saturday, March 24, 5 – 6 p.m.                      Horse Soccer Team Competition
Saturday, March 24, 7 – 8 p.m.                      Club Hippico Mexico-Americano featuring full Mariachi Orchestra and Folkloric Dancers
Sunday, March 25, 2 – 4 p.m.                        Parade of Breeds Show with Costumes representing Heritage
Sunday, March 25, 5 – 6 p.m.                        Hacienda Venecia Paso Fino Trote, Galope Exhibition
Saturday, March 24, 6 – 7 p.m.                     Club Hipico Nicaraguense Miami USA
Sunday, April 1, 6 – 7 p.m.                              Rancho Victoria, Folkloric Dancers and Parade of Horses
Thursday, April 5, 2018, 6 – 7 p.m.                Homestead Everglades Posse
Thursday, April 5, 2018, 7 – 7:30 p.m.           Homestead Rodeo Queen 2018 Meet and Greet
Friday, April 6, 2018, 6- 10 p.m.                     Ranch Sorting by World Class Teams
Saturday, April 7, 2018, Noon – 11 p.m.        Sorting by World Class Teams
Sunday, April 8, 2018, Noon – 11 p.m.          Sorting by World Class Teams
Professional Open Competitions
The Youth Fair is a premium competition show for steer in Florida. Purebred cattle are professionally shown. Some weigh in at more than 2,000 pounds. Agriculture exhibit programs help to promote our local agriculture community and educate students on the principles of developing, implementing, and managing agricultural based businesses.
Monday, March 19, 3 -4 p.m.                         Open Santa Gertrudis Show
Wednesday, March 21, 7 – 10 p.m.               Open Angus Show
Friday, March 23, 7 – 10 p.m.                        Open Brangus/Red Brangus Show
Tuesday, March 27, 3 – 6 p.m.                       Open Red Brahman Show
Tuesday, March 27, 6 – 9 p.m.                       Open Gray Brahman Show
Thursday, March 29, 4 – 7 p.m.                      Open Simmental Show
Thursday, March 29, 7 – 10 p.m.                    Open Limousin Show
Rabbit, Cavy and Poultry Competitions 
Sunday, March 18, Noon – 4p.m.                     Youth Rabbit and Cavy Breed ID and Showmanship
Friday, March 30, Noon – 4p.m.                       Youth Poultry Breed ID
Wednesday, April 4, Noon – 6pm                      Youth Poultry Showmanship
Thursday, April 5, Noon – 6pm                          Youth Poultry Bathing and Grooming
Adventure awaits as the 2018 Miami-Dade County Youth Fair & Exposition will take place at Tamiami Park on SW 107 Avenue & Coral Way, its home since 1972, from March 15 thru April 8, 2018, except March 19 & 20 and April 2 & 3. The 2018 Miami-Dade County Youth Fair & Exposition will provide 21 days of all-new surprises as well as breathtaking amusement rides, one-of-a-kind unique and delicious foods, free live outdoor entertainment, free concerts and agricultural and academic student exhibits and much more. Youngsters 5 and under & seniors 65 and better enter free every day, all day. Parking is only $5.00 when purchased by March 14th and $10.00 starting on March 15th.
The Youth Fair & Exposition offers many amenities for families including stroller and wheelchair rental, lost and found, paved walkways, convenient sitting areas, lush landscaping, restroom and diaper changing facilities and more. Premiere Sponsors include Coca-Cola®, the South Florida Ford dealers and Sedano's Supermarkets. For more information, visit www.fairexpo.com or call (305) 223-7060.