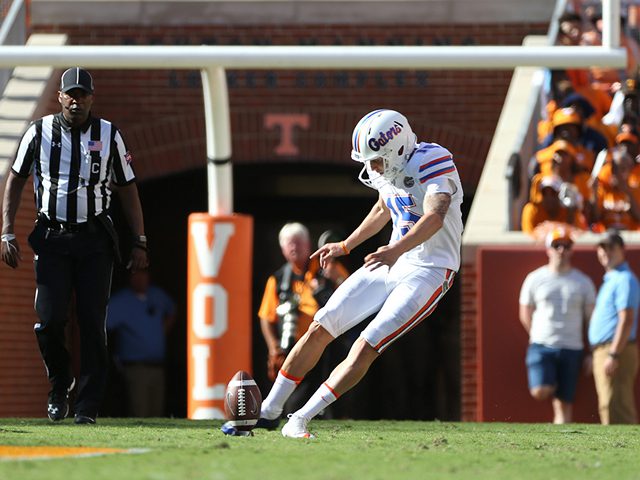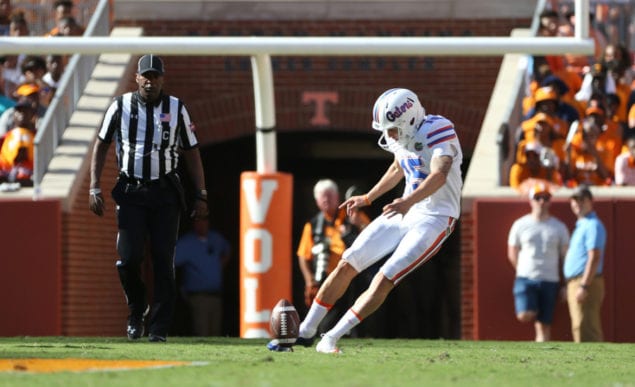 When one types "Eddy Pineiro" into a YouTube search bar, "77 yard field goal" immediately follows.
And this was the case before he ever donned a University of Florida football uniform.
The University of Florida's kicking sensation, whose athletic career started at Sunset High School, was not supposed to attend UF. He was not even supposed to play football.
However, through his father's direction and years of honing his kicking skills on the soccer field, Pineiro has become one of the premier place kickers in the nation.
"He has a very rare form of coordination as an athlete that allows him to generate great leg speed," said Jay Flipse, who coached Pineiro for seven years. "He has the ability to control his body, which allows him to set himself apart. Kickers like him are not manufactured really; they are born."
Even so, Flipse and Pineiro's father polished Eddy's soccer skills for years before he started kicking 77-yard field goals. Eddy's father played as a forward for the Fort Lauderdale Strikers and the coaching, combined with Eddy's work ethic, led him to lead the Miami-Dade County in scoring his senior year.
"My dad was a big influence in me being a kicker," Pineiro said. "My dad used to take me out to the field and make me kick 100 shots with my right foot and 100 shots with my left."
It was during his senior year that Flipse encouraged the soccer player to try on football cleats and pads. Unfortunately for Pineiro, he had limited opportunities to display his field goal kicking prowess during his senior year of high school.
With no football scholarship, Pineiro went on to play soccer for a small junior college, ASA College. While playing soccer, his father woke him up early every day to practice kicking field goals.
Finally, in the summer of 2015 the father-son duo drove up to an open kicking combine at the University of Alabama. Out of hundreds of kickers, Alabama coach Nick Saban narrowed his scholarship offers to Chris Salek and Eddy Pineiro.
He chose the Miami boy, and Pineiro verbally committed.
On the way back down from Alabama, Pineiro and his father decided to stop at the University of Florida to kick for coach Jim McElwain. Pineiro arrived to UF without having rested and had to opt for a nap in the parking lot.
Tired and groggy still, Pineiro kicked three footballs through the uprights and that was all coach McElwain needed to see to offer him a scholarship.
Having already verbally committed to Alabama, the Pineiro family was unsure of which school to choose officially.
A home visit by McElwain served to begin convincing Pinerio to change his mind. The UF head coach was adamant about Pineiro being UF's kicker one day. Even so, Pineiro was hesitant to turn down Nick Saban. However, staying closer geographically was the ultimate deciding factor.
"The reason why I chose Florida over Alabama was because I wanted to stay home, and I thought my parents would have a better opportunity to come watch me play," Pineiro said.
Staying true to form, Pineiro opted to attend the University of Florida where he made a name for himself in one season. He made 21 of 25 attempted field goals and was a perfect three-for-three from 50-plus yards.
As Pineiro gets set for his second year as UF's placekicker, he has his goals set on NFL along with making monstrous in-game field goals — not just for Youtube fans.
"It was pretty cool that people were noticing I was kicking far field goals, but I never did it in a game. I wanted to do it in a game, more than doing it on Youtube," Pineiro said.