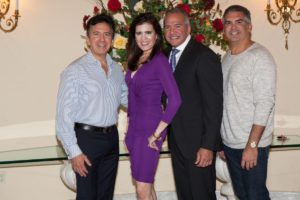 Belen Jesuit school has announced that the José Milton Foundation has pledged $4.5 million to the school.
The donation will go toward fulfilling the goals laid out in the new Strategic Plan designed to advance the vision and direction of the school. This gift represents the largest single donation made to the school to date. To commemorate this gift, the main school building will be named in honor of the foundation.
"This is a great day for the whole Belen community," said Father Guillermo M. García-Tuñón, SJ (class of 1987), school president. "With a gift of this magnitude, we will be able to do many wonderful things to benefit, not only our current students, but future generations of Wolverines. I'm incredibly grateful to the Milton family for their generosity and, most importantly, for understanding the importance of a Catholic, Jesuit education."
Of the money being donated, a $500,000 endowment has been earmarked toward the school's diversity and inclusion program. For several years, the school has made concerted efforts to increase the racial and socioeconomic diversity of both the student body and faculty. This first-of-its-kind endowment will serve to attract more diversity and ensures that more boys representing diverse backgrounds will have the opportunity to receive a Belen Jesuit education.
The José Milton Foundation was established by the patriarch of the Milton family, architect and entrepreneur José Milton. His three sons — Cecil (class of 1987), Frank (class of 1988), and Joseph (class of 1982) — work to honor their father's legacy as active leaders in the South Florida community. Together they manage operations and growth at United Property Management and José Milton & Associates.
"My experience at Belen catapulted my success in my personal and professional life," said Cecil Milton. "I am honored to have the opportunity to make a Belen Jesuit education accessible to a more diverse group of students and to encourage my fellow alumni to give back."
Cuban-born architect José Milton emigrated to Miami in 1963. He worked diligently to build his company and today it is a fully integrated organization that has enhanced greater Miami with numerous landmark condominium towers and quality rental communities. Two grandsons, Justin (class of 2018) and Nicholas (class of 2017) also graduated from Belen.
"This gift is a testament to the Milton family's commitment to the continued growth and development of Belen Jesuit," said Fr. Willie. "We look forward to the unveiling of the name at the beginning of the school year. I am confident this show of support and love will inspire alumni and parents to continue to help us in our mission of forming men for others."
The unveiling of the signage on the main school building is scheduled for Thursday, Sept. 1, at 9:30 a.m.
Belen Jesuit is located at 500 SW 127 Ave.