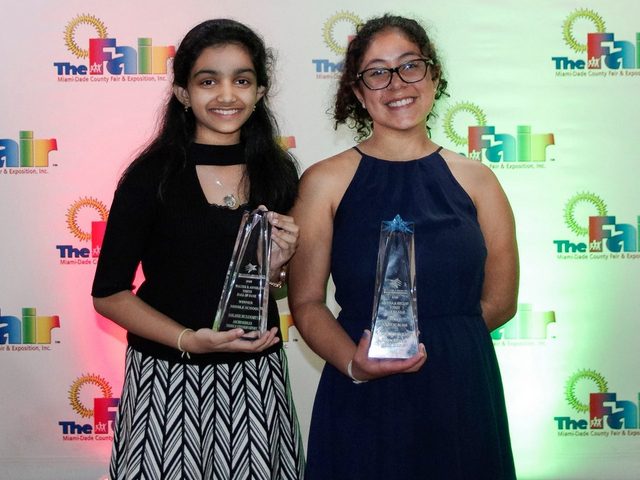 The Miami-Dade County Youth Fair & Exposition recently honored six middle and high school students for their outstanding community service.
"Community service is a fundamental part of the Youth Fair's core, and we are honored to be able to recognize such outstanding young people for their service. Such a commitment to others less fortunate makes them the unsung super heroes of our community," said Robert Hohenstein, president and CEO of the Youth Fair.
Two of the students, Anilegna Nuñez Abreu from South Miami Senior High School and SaiLasya Munamarty from Archimedean Middle Conservatory, were selected to receive the Walter B. Arnold Jr. Youth Hall of Fame Community Service Award. The Youth Fair awarded $1,000 to each of them.
The four other finalists were: Abigail Colon, Hialeah Gardens Senior High School; April Rubin, Coral Reef Senior High School; Anabelle Ballate, Lawton Chiles Middle School, and Paulina Almada, G.W. Carver Middle School.
Each of the students received a $100 check at the May 31 dinner ceremony at the Youth Fairgrounds attended by family, school administrators, Miami-Dade County Public School region administrators, school board members, and Youth Fair board members.
The Youth Hall of Fame Community Service Award was created in 2001 in honor of the man who had the vision to take a small 4-H Fair and turn it into one of the most respected fairs in the United States. The late Walter B. Arnold Jr. (1914-2000) had a 41-year history of selflessly leading the Youth Fair, including as general manager and president.
He believed in young people and their potential and wanted to help them achieve their dreams. He created the exhibits category that allows students from across the county to showcase their achievements. In fact, with 63,461 student exhibits, the Youth Fair is home to the largest student exhibits in the USA.
SaiLasya, a seventh-grader at Archimedean Middle Conservatory, found her inspiration to stop child exploitation in an assignment at her school's philosophy club. SaiLasya summarized the group's findings on sex trafficking, child labor, organ trafficking, and drug trafficking then launched a Change.org petition to raise funds for organizations fighting these.
She enlisted community support by speaking at schools, the Hindu Society of Miami, and Rotary clubs. Her efforts garnered 200 petition signatures, hundreds of dollars, and accolades from the Miami Police Department and Miami-Dade County Public Schools.
Although she admits that bringing about change can be difficult, SaiLasya says: "One change can help change the world."
Nuñez, a senior at South Miami Senior High School, founded HELP, her school's tutoring and mentoring program, with a peer. When she tutored a schoolmate with autism, the positive experience opened her eyes to just how much of an impact the program could have.
At least 56 students have been tutored through HELP, with another 40 involved in the program's mentoring component. Students who have attended 10 or more tutoring sessions have scored a 100 percent passing rate compared to 79 percent for those who have attended fewer than 10 sessions.
The Miami-Dade County Youth Fair & Exposition (The Youth Fair) is the largest charity event in South Florida. The not-for-profit association is dedicated to promoting education and agriculture while showcasing and rewarding youth achievement and providing quality family entertainment, all without taxpayer dollars. To date, The Youth Fair has presented well over $11 million to the Miami-Dade community.