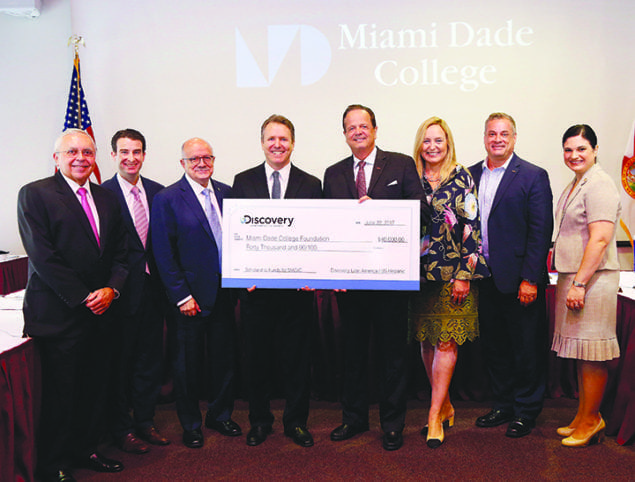 During the Miami Dade College (MDC) Board of Trustees meeting on June 22, Discovery Networks Latin America/U.S. Hispanic (DLA/USH) presented a check for $40,000 to provide scholarships for students at MDC's acclaimed Miami Animation and Gaming International Complex (MAGIC).
The Discovery Latin America Scholarship will be awarded to students enrolled at MAGIC with a minimum 3.0 GPA and demonstrated financial need.
"Discovery Networks Latin America/U.S. Hispanic is excited to partner with Miami Dade College's MAGIC program, which allows us to tap into a great talent pool while providing students with real, hands on experience with existing as well as new projects and opportunities," said Michael Bremer, chief finance officer and chief operations officer for Discovery Networks Latin America/US Hispanic (DLA/USH).
MAGIC has been named one of the top schools in the country for animation or visual effects by Animation Magazine. Its first graduates, Class of 2017, have earned internships and jobs at Univision Communications, Discovery Latin America, Frost Science Museum, Spinteractive, and Sky Rise Miami.
Opened in 2015 and located at MDC's Wolfson Campus, MAGIC offers an Associate in Science degree in Animation & Game Art or Game Development & Design. Students in the intensive, hands-on two-year program develop skills in modeling, lighting, motion, sound, and storytelling, as well as gain command of the technical skills required in today's highly competitive animation industry.
MAGIC continues expanding its course offerings with the implementation of the Immersive Technologies Certificate program on virtual reality (VR) and augmented reality (AR) starting in fall 2017.
Students also benefit from key partnerships and mentorships with industry leaders, including alliances with Alienware, Baptist Hospital, Discovery Communications, Nickelodeon, Museu do Amanhã, Pixar's RenderMan, and Univision Communications, among others.
To learn more, visit https://magic.mdc.edu.