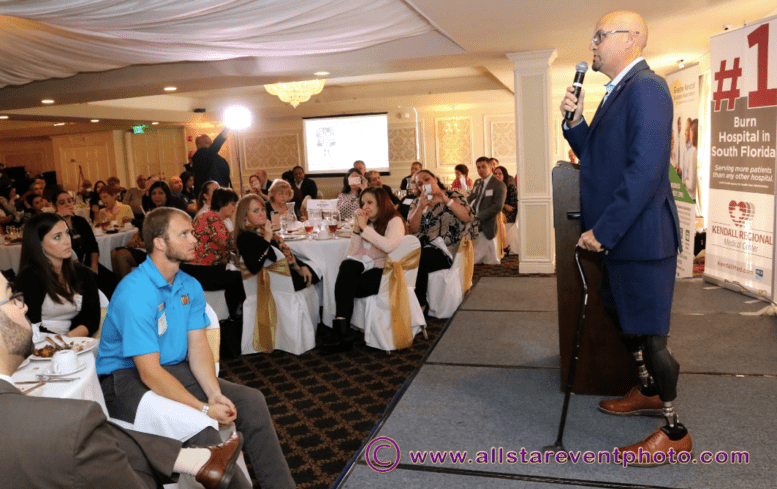 A popular South Dade High School Principal, who nearly lost his life after a drunk driver ran him over, is defeating the odds, as he looks towards the future.
"That community and the kids are amazing," he said. "The support I received through e-mails and letters believe it or not when I was in the hospital I had kids sneak out and visit me, which is amazing. You never know how much of an impact you have on people, but you see the way they react. It is overwhelming."
He has been in administrative leave ever since a drunken Marilyn Aguilera rammed into him at a little league field in April 2016. Perez lost both of his legs in the crash and was told by doctors he might never be able to walk again.
He was a recent guest speaker at the Greater Kendall Business Association, where he helped inspire those in attendance through his experience.
"[The speech] was about my story and what happened to me, but at the time I touched about the importance of life because a lot of time we get wrapped up in work," he said in a phone interview. "It becomes our number one priority, which is important but at the same time we don't realize our family and other things only when bad things happen. One of the points I made, is as humans we don't realize that we are capable of doing anything, there is nothing that can stop us."
Thanks to the latest military technology, support from his family and community he has bounced back: he now walks on his own. Occasionally, he'll use a cane depending on the terrain. He hopes to one day run a 5K marathon. Prior to the accident, he was an avid runner.
"Doctors told me I would never be able to wear prosthetic legs and here I am walking now," Perez said who is also passionate about baseball.
Perez lost his knee on his left leg, which makes it challenging for the use of prosthetic legs.
Today, Perez, who had more than 100 blood transfusions and 20 surgeries, has become an inspiration figure. He hopes to share his story on a larger scale by writing a book soon.
"I want to write the story not only my story, but the love around me and what they went through during the time of my accident and the last three years," he said. "How it affected them and many ways it improved our lives."
But before returning to South Dade High School as a principal he has other tasks: producing a golf tournament, domino tournament and the annual throwing out the first pitch at the Miami Marlins game.
Proceeds from the events go to his non-profit organization Javi Strong. The funds help him and others who have been through a similar experience.
So far the foundation has raised $120,000 since the beginning.
Also, he along with his attorney and a friend, are getting ready to open Modern Med Center near Dadeland Mall in Kendall, which will concentrate on testosterone treatment for men and women and physical therapy.
"He truly is an inspiration," said Michael Miller, publisher of  Miami's Community Newspapers, who was among the 130 people that came to hear him speak.
For more information on Javi Strong Foundation visit follow Javi Strong on Facebook https://www.facebook.com/javistrongorganization/