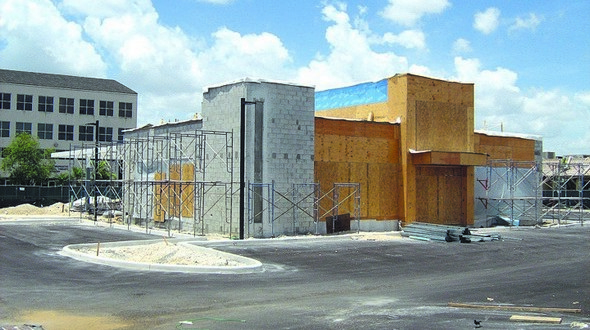 A new TD Bank branch with seven-day banking hours is scheduled for opening this fall at 11480 N. Kendall Dr.
Fronting SW 88th Street on a 43,995- square foot site adjacent to a McDonald's, construction is underway for the new bank on the land once occupied by a Bennigan's Restaurant, east of SW 117th Avenue.

The property was listed in 2012 with undeveloped land valued at $1,583,820 with an ownership listing of Foggy Kendall LLC, 1680 Michigan Ave., Miami Beach, according to county tax appraisal records.
When completed, the building size will be between 2,500 and 2,900 square feet and feature a full service lobby, "drive-thru" banking and ATM access.
Structural construction and equipment is targeted for LEED (Leadership in Energy and Environmental Design) certification, based on six areas: sustainable site use, low water usage, energy efficiency, recycled material usage, indoor environmental air quality, and innovation and design.
The TD bank branches normally require a staff of 10 to 15 full and part-time personnel hired locally, according to Martha A., Gaston, spokesperson at TD Bank corporate office in Winter Park.
Anyone interested in working at the Kendall Drive TD Bank store should visit the job postings page on the TD Bank website at www.tdbank.com/careers.
"Customers can expect seven-day banking, longest banking hours in the area," she noted. "The Penny Arcade coin-counting machines are free for customer use, and fun for kids."
TD banks feature "hassle-free and easy to understand financial products, customized lending and individual financing solutions, as well as an overall friendly personal banking experience complete with treats for kids and biscuits for dogs," she added.
TD Bank currently has 24 branches in Miami-Dade County and 69 throughout South Florida's three-county area.
The bank's history dates back to the opening of Portland Savings Bank in Portland, ME in 1852, renamed Peoples Heritage Bank in 1983 and again renamed Banknorth, becoming a majority shareholder of TD Bank Group of Toronto, Canada, before ownership by the parent firm in 2007. After acquisition of Commerce Bank in 2008, the company rebranded as TD Bank.