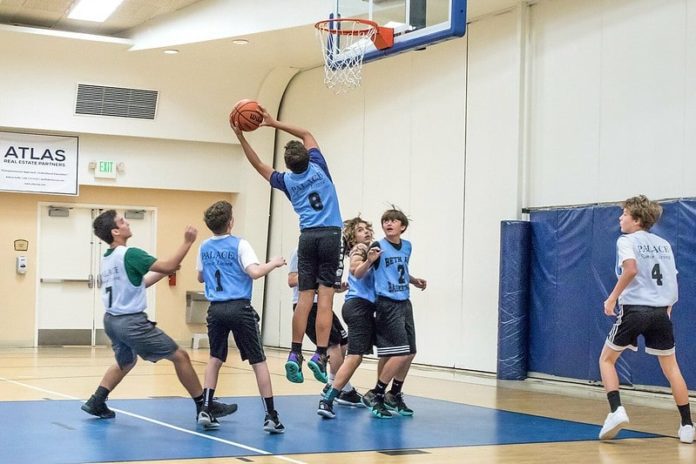 For the first time in nearly 50 years, the sounds of dribbling balls, referee whistles and cheering fans were nowhere to be found at Beth Am. Like so many other community events and activities this year, COVID-19 forced the Beth Am Basketball League to shut its doors.
Now, Beth Am is thrilled to reopen its league this coming Fall 2021!
The league games run from early September through mid-December and will welcome 4th–8th grade girls and 4th–9th grade boys.
Registration is open now for the following divisions:
Rookie Girls: 4th & 5th Grade
Rookie Boys: 4th & 5th Grade
Junior Girls: 6th, 7th & 8th Grade
Junior Boys: 6th & 7th Grade
Senior Boys: 8th & 9th Grade
The Beth Am Basketball League has been a part of the South Florida community for decades, connecting students and their families across all schools, neighborhoods, and religious affiliations. It is truly a league for the entire community!
Dr. Adam Clarin, optometrist and owner of Clarin Eye Care, grew up playing in the league and now coaches his own children.
"It is so rewarding to get the opportunity to coach my own children in the same league I grew up playing in," said Clarin, who lives in Palmetto Bay. Everyone is welcome in this league! Whether your child is just picking up a basketball for the first time or they have been playing for years, Beth Am is the place for your family."
Your child will learn a lot and have a ton of fun! Visit www.tbam.org/basketball to learn more and register your child! Secure your spot today as the league fills up fast.
Shari Debowsky, who works at Nicklaus Children's Hospital Foundation and is a parent of two Beth Am Day School children, notes that: "Beth Am Basketball is not just a community program- it's an institution unto itself! I am thrilled that it is coming back in the fall so my children can participate in this fantastic league again. It brings together families from all over our Miami community and makes connections for kids across every school in South Dade. The relationships formed last a lifetime."
Seventh grader T.J. Rebhan agrees.
"Playing basketball at Beth Am is always a lot of fun. It is awesome getting to play with my friends and make new ones from other schools," says Rebhan, who attends Somerset Academy Silver Palms. "The volunteer coaches are great and have made me a better player. And I especially love how competitive the games are!"
Come join the Beth Am Basketball family! You do not want to miss out!
If you have any questions, contact Michelle Cohen, Campus Activities Director, at
786-364-9432 or mcohen@tbam.org.