Walking around during Art Basel exhausts everyone. Feet hurtin', eyes burnin', throat in need. Like a European museum tour, it doesn't take long for one to burn out. If you are of age, liquid respite beckons.
Who has what it takes near the venues?
Consider these 5 places to escape, and a few semi-non-suggestions.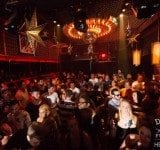 5. Do Not Sit On the Furniture is not a command, but a location at 423 16th Street and the premier beach club for the subterranean set. It's dark, tight, and a global DJ hideout/paradise. It's designed like Europe — unpretentious and built for dance.
4. The Regent Cocktail Club: On the corner of 17th and James right in the thick of all things on the Beach rests the regent in the rear of the Gale. No place on the Beach feels this much like the famous old-time, pricey, classy New York City barrooms like the King Cole in the St. Regis or Bemelman's at the Carlyle. If Cleaveland Jones and his Trio are playing like they often do on Thursday nights, settle in for a few delightful, stirring Brazilian-tinged sets. They got skills.
3. Radio Bar South Beach: All those burnt sienna, earthy tones minus any vestiges of natural light make for a good post-modern, post-apocalyptic vibe. It's both contemporary and sci-fi Twilight Zone – if something happens outside, you might drink your way through it. Easter Island mugs, a pool table, and stylish cocktails contribute. 814 1st Street and looking very different outside from inside.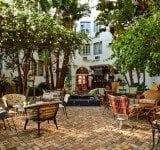 2. Broken Shaker: The old Indian Creek Hotel became the Freehand Hostel and these Bar Lab dudes, Gabriel Orta and Elad Zvi got semi-famous and started making freaky cocktails and suddenly, yeah like, you know, the place got very hip. Amid the gorgeous patio garden are serious cocktails making waves like this one a while back: Kale and Pineapple Caipirinha. 2727 Indian Creek Drive. You can also chill upstairs at 27.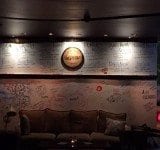 1. Repour: Established in 2015, Repour has developed serious rapport going as far as the bar in Miami Beach least likely to reveal photos showcasing it. Laid back on the beach, lots of handwritten stuff, rarely overcrowded, and beautiful drinks make this locally popular spot in the lobby of the Albion a champion.
.5 Less than worthy: Take your pick. Cool bad-secret is out backroom Bodega, gorgeous view/too tight dresses at Juvia, UFC/NRA/armed to the teeth/hidden entrance Foxhole, no one can stand it but Anthony Boudain Club Deuce, but none of which could ever be worse than rock-bottom Clevelander (except maybe Mangos).