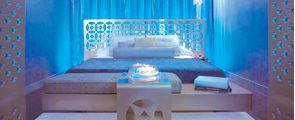 TripAdvisor, Inc. (NASDAQ: TRIP), the world's largest travel website, today reveals Dream South Beach was chosen as a winner in the Trendiest Hotel category by TripAdvisor in its 2012 Travellers' Choice® awards. The hotel was voted the #5 Trendiest Hotel in the United States and #25 in the World.
"We take great pride in this recognition, and want to thank all of our guests and staff who have made this special award possible. The feedback from our guests has been tremendous and we appreciate hearing from them." Said Peggy Benua, General Manager of Dream South Beach, "In addition to being trendy, Dream South Beach is also proud of our high levels of customer service made possible by our dedicated staff."
Now in its tenth year, the annual TripAdvisor Travellers' Choice awards honour the world's best hotels, earning their distinction from those who know them best – real travellers. Unlike any other hotel honours, TripAdvisor Travellers' Choice winners are based on millions of valuable reviews and opinions from travellers around the world.
"With the help of millions of travellers around the globe, TripAdvisor is thrilled to recognise the world's most outstanding hotels for the tenth year of the Travellers' Choice Awards," said Christine Petersen, president, TripAdvisor for Business. "From the best bargain hotels to best luxury hotels, remarkable service, value and quality are the hallmarks of our Travellers' Choice winners."
As TripAdvisor has continued its growth globally, featuring sites in 30 countries and in 21 languages, the Travellers' Choice Hotels awards now highlight a broader range of spectacular properties across the globe.
For reviews on the Dream South Beach go to http://www.tripadvisor.com/Hotel_Reviewg 3 4 4 3 9 – d 1 6 9 9 8 1 9 – R e v i e w s – D r e a m _ S o u t h _ B e a c h – Miami_Beach_Florida.html. For the complete 2012 Travelers' Choice list, go to www.tripadvisor.com/travelerschoice.

ABOUT DREAM SOUTH BEACH
Dream South Beach is a fashionable Art Deco-inspired paradise located in the heart of South Beach, directly behind Villa by Barton G., formerly the iconic Versace Mansion Casa Casuarina. The hotel is only 50 yards away from the most pristine, white sand Atlantic Ocean beaches as well as steps from the hottest clubs, restaurants and famed shopping avenues; Lincoln Road, Ocean Drive and Collins Avenue. Dream South Beach is a delightfully hypnotic hideaway from the South Florida sun with décor elements that evoke a feeling of the late '70s with a hint of poolside glamour.