COALESCE by Elidea opens during Miami's highly anticipated Art Basel Miami Week 2021. All are welcome to attend the exhibition reception on Tuesday, November 30th from 5:00 – 10:00 p.m. at Glassbox Ironside (7520 NE 4th Ct, Miami, FL 33138). RSVP via Eventbrite.
Elidea's mixed-media paintings begin with a careful and metaphorical deconstruction of black and white photographs of women taken by fashion photographer Raoul Beltrame. This process signifies the plight of women who often feel torn apart, erased, or broken.
In the process of reassembling the various parts, Elidea adds a powerful inclusion of golden, copper, and/or silver leaf. This element highlights the scars as the main part of her artistic oeuvre.
"I feel that my art represents all women and our experiences are fragments that come together to form a beautiful and powerful whole," Elidea explains. "COALESCE represents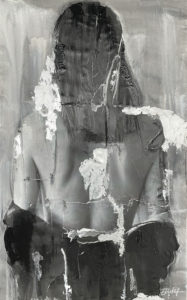 the coming together of women of every color, spirituality, sexual orientation, body shape and nationality in a true celebration of femininity and the feminine form. My art shows that when life rips you apart, there can be golden moments to make you who you are."
About Elidea
Elidea is a contemporary Italian artist based in Miami. Upon finishing her studies at the European Design Institute in Milan, she began working as a graphic designer with several studios in her home city, as well as participating in a professional collaboration at the European Design Institute.
Her art is a multilayer work with hidden details. Her technique evolves from classic photos into mixed media collage creations with the usage of paper; golden/bronze leaf; acrylic colors and charcoal. Cutting, pasting, and overlaying allows her to create her unique vision — often surrealistic and full of stimulus.
During Art Basel Miami 2018 and 2019 respectively, Elidea was presented the 'Best Rising
Artist Exhibitor' award and named 'Spotlight Artist' by Spectrum Miami Art Fair.
Elidea was also selected to collaborate with the iconic whiskey brand Bulleit® for the 'Frontiers Works Project 2019' that took place during Miami Art Week. For this brand, she created six original works of art for Bulleit® bottles, as well as an original hand-painted mural.
Her works have been exhibited in numerous Italian art galleries between Milan and Venice and at several art exhibitions in the US, including Art Basel Miami and New York.
The event is sponsored in part by La Dolce Vita.
COALESCE – An Exhibition of New Works by Elidea
Opening Reception: Tuesday, November 30th 2021, 5:00 – 10:00 pm
RSVP Required: press@allegorypr.com |  786.440.6552 or via Eventbrite