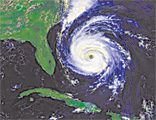 The City of Miami Beach wants to ensure the safety of all its residents and visitors and urges everyone to have a plan in case of a hurricane or other emergency.
"We are prepared and we want to make sure that you are too," said City Manager Jorge M. Gonzalez.
Hurricane season begins June 1 and continues through November 30. Although hurricanes have occurred outside of these six months, these dates were selected to encompass over 97 percent of tropical activity. The Atlantic basin shows a very peaked season from August through October, with 78 percent of the tropical storm days, 87 percent of the minor (categories 1 and 2) hurricane days, and 96 percent of the major (categories 3, 4, and 5) hurricane days occurring. Once in a few years, there may be a hurricane occurring "out of season" — primarily in May or December.
Stay tuned to local weather updates during the season, as a low pressure systems can develop into a tropical storm or hurricane within hours threatening our area. Tropical systems can speed up, change direction and intensify without warning. Several local news stations and weather services offer email and text notifications or mobile phone apps by subscribing to their services.
The following terms are used by weather forecasters to describe the strength and probability/proximity of a storm from hitting a specific destination:
HURRICANE WATCH: A hurricane may strike your area within 48 hours.
HURRICANE WARNING: A hurricane is expected to strike your area within 36 hours.
Since Miami Beach is located in an evacuation zone, the community has to prepare for two scenarios: evacuation and reentry/ recovery.
Miami Beach residents are urged to develop a disaster preparedness plan before an emergency strikes. Plan in advance where you will stay, how you will get there, and what supplies you will take. As part of your plan, you should have an emergency supply kit ready. When you return to the city, you may not have electricity or water for weeks. Consider the needs of elderly and infant family members and pets.
Before a storm and during an evacuation, do not place bulk trash or tree clippings to the curb for pick-up. Garbage collection also ceases during an evacuation and they may become dangerous projectiles in a storm.
Review your insurance policies to ensure that you are fully covered. Insurers cease issuing policies when tropical systems are within the quadrant. Inventory and take photos of your property and valuables, and store these photos and other important documents in a waterproof container and take with you.
Have a transportation plan and preplanned place to stay. Tell family, neighbors, and service agencies where you would go to stay in an emergency. As a last resort, use a public shelter when they become available. Public transportation will pick-up at designated marked bus stops to take evacuees to a public shelter; however, you will be responsible for your own personal needs.
Make sure that you take proper Miami Beach identification with you when you evacuate; you will need it to re-enter the city. After a hurricane, re-entry into Miami Beach will be contingent on the extent of damage. You will need to listen to local news for information or call 3-1-1.
Some evacuation programs require early registrations. Take the time to register now if they apply to you.
EARLY REGISTRATIONS
Special Needs
Residents that require special care and/or special transportation to a special needs shelter have to pre-register with the Miami- Dade County Emergency Evacuation Assistance Program immediately. The number is 305.513.7700 or 305.468.5402 TDD ( hearing impaired).
Condo Manager Re-entry Program
After an evacuation, re-entry to Miami Beach is limited to authorized individuals. Through the new Condominium Hurricane Re-Entry and Parking Authorization Hang Tag Program, pre-registered condo managers or other designated persons will be permitted to re-enter the city to check on their property before the general public is allowed to re-enter. For more information, contact Lynn Bernstein at 305.673.7010.
Pets
Miami-Dade County now offers petfriendly evacuation centers for families to go with their furry friends, up to three pets per family. You must pre-register with Miami-Dade County if you plan on using the pet-friendly evacuation center. However, this does not guarantee placement. To register, call the Miami-Dade County Answer Center at 311
Miami Beach Hurricane Guide
www.miamibeachfl.gov/publicsafety