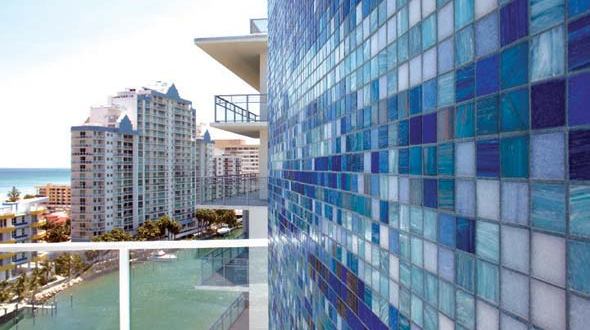 Founded in 2000 by Pino Bisazza, expert art lover and successful businessman in the mosaic sector, Trend, with worldwide headquarters in Vicenza, Italy and U.S. headquarters in Miramar, Florida, is a global manufacturer of precious materials such as glass, enamels and gold mosaic, engineered glass, quartz and granite surfaces.
Trend is firmly rooted in the artistic integrity of its Venetian glass foundry, the Angelo Orsoni Furnace. These centuries-old methods and materials take their place alongside the most advanced production at Trend's manufacturing facility in Sebring, Florida, which provides engineered agglomerates to its discriminating network of dealers and its growing international franchise system of Granite Transformations showroom
In 2005, the Miami Granite Transformations showroom opened, providing residents and businesses in the South Florida market access to Trend products, specifically focused on serving those with Miami or South Beach real estate. One popular example of Trend's work is the Spear Building, located at Aqua on Allison Island. Aqua on Allison Island is a neighborhood with mid-rise condos and houses, located on an 8.5 acre private island in Miami Beach. In 2003, Trend was brought in to design the façade of the Spear condo building, the second mid-rise when entering the island.
Although various architects were brought on to design different parts of the building, one common link is that all condos have magnificent views of the water. For this reason, Trend worked with the exterior designer to create a design inspired by rippling waves in a calm ocean sunrise. Trend used various colors from its line including Vitreo, Brillante and Shining to re-create this motion. A total of 14,055 square foot of glass mosaic sheets were numbered so they could be placed in an exact position, with the proper orientation upon installation.
In the busy decade since its founding in 2000, Trend is currently distributing more than 16 million square feet of glass mosaic tile and more than 8 million square feet of agglomerate surfaces per year. The leadership of Trend Group has worked to assure that the company's commercial soul is shaped by a deep commitment to environmental concerns and cultural vibrancy. On the one hand, Trend actively supports the contemporary art world, is a leading member of the Intrapresae Collezione Guggenheim Association, and funds the biannual Orsoni Prize for International Mosaic Art. On the other, the company moved early and aggressively to reduce the ecological impact of its processes and products. Production is designed to consume fewer raw materials and energy resources, to recycle otherwise wasted materials, and to increase the natural durability of its inventive applications.
Trend is available for all commercial projects, small and large.