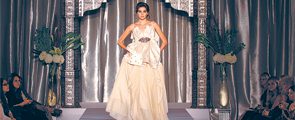 By Shari Lynn Rothstein-Kramer….

Sobol-Perry Fashion Productions, Inc. has done it again! As the producers and masterminds behind Miami Beach International Bridal Week (MBIBW), Beth Sobol, and her business partner, Aaron Perry, successfully debuted the newest and what could be considered, the most important bridal show the wedding industry has ever seen.
Held this past weekend (November 26 and 27) at the Eden Roc Renaissance Miami Beach, more than 500 people made their way through the two-day extravaganza, where all things beautiful, and of course bridal, prevailed.
Taking its cue from Sobol's signature Miami Beach International Fashion Week, an event recognized as one of the world's top five fashion events, MBIBW brought to life a world of wedding fantasy. From the Eden Roc's outstanding cuisine and champagne tastings by Moët- Hennessey to the multiple couture bridal fashion and lingerie runway shows and lovely jewelry designs, there was something for everyone.
Show highlights included elaborate "pavilions" designed by MBIBW's creative director, Marc Silverstone of Equilibrium Events. Discerning brides – and grooms-tobe were swept away by fairytale wedding scenes that included a gold-plated mandap, which gave way to a world of color for an elaborate South Asian wedding; a black, white, and red-themed setting for the GLBT community; and a sophisticated contemporary Jewish ceremony, complete with Chuppah. Great music from Javier Montes of DJ Connection filled the air, while gorgeous floral creations by Mauricio Duque of Concept Flowers were present almost everywhere the eye could see, furthering the perfectly dreamlike environment. A masculine groom's Lounge, created by Sandy Espinosa of Twenty7 Events, provided a place for groom's to relax while their brides-to-be explored.
Bridal couture fashion and lingerie shows – the absolute draw for many attendees – exemplified MBIBW's international flavor and Sobol's expertise. She presented an elite collection of designers including Rania Hatoum, a bridal couture designer from Egypt, Fadila Kihel of Algeria, Umar Sayeed from Pakistan, and the Patuna Bushyhead Fashion House from the Republic of Georgia. Jewelry designers including Aurum Collections, Jennifer Diaz, and Maleku put the finishing touches on models, as ensembles were accented with unique and exquisite original designs. The hottest luxury bridal lingerie and loungewear trends were presented by Bloomingdale's.
Interactive seminars including "Dancing with the 'Miami Stars", "Beyond the Cake – Wedding Champagne Trends", Financial Planning for your Future, and "Bridal Bootcamp" presented by The Style Network's TV Host and Celebrity Wedding Planner, Ana Cruz ran throughout the show. Timely and poignant, Miami Beach City Commissioner Michael Gongora, the divine Elaine Lancaster, and CJ Ortuno, Executive Director of SAVE Dade, shared personal stories on the politics and human nature in the fight for marriage equality and ceremony trends for GLBT couples. "I am thrilled with the huge success of the first annual Miami Beach International Bridal Week. It was an honor to serve on the panel discussing same sex marriage issues and ceremony trends for GLBT couples," said Gongora. "I am proud of the founders of Bridal Week, Beth Sobol and Aaron Perry, for bringing this issue to the forefront. The more we discuss this issue, the more change can occur in the State of Florida beginning with the City of Miami Beach."
Media coverage was abundant, including NBC-6 Live Miami, Telemundo's Acceso Total, CNN, Ted Turner's new fashion & lifestyle network, Glitz TV Latin America, which covered the entire event and plans a one hour special to serve its 20 million viewers.
Noteworthy guests included actor Vincent De Paul, who launched his new line of men's formalwear ties and Ronnie Rothstein, owner of renowned Manhattanbased Kleinfeld Bridal, who was said to be thrilled by MBIBW's selection of suppliers and International bridal designers.
Ceci Velasco, Chief Operating Officer of the Miami Beach Chamber of Commerce, was also on hand to comment: "The Miami Beach International Bridal Week was a spectacular opportunity for the bridal industry to capitalize on Miami Beach as a premier wedding destination with the cosmopolitan flair that Miami Beach is known for. We are the gateway of all things international and Bridal Week offered everything from simple elegance to couture."
Perry, Managing Partner for Sobol-Perry Fashion Productions, Inc., could not have been more humble. "I can't give enough thanks to the entire Eden Roc staff led by its General Manager, Greg Cook, and Director of Event Management, Mary Jo Ferrazza, for doing a spectacular job as hosts of the event. We couldn't have picked a more beautiful hotel to showcase Miami Beach as a premier wedding destination," said Perry.
"Of course, this event could never have taken place without the support of the City of Miami Beach and the Greater Miami Convention and Visitor's Bureau," Sobol added. "Additionally, I'd like to give a special thanks to the Miami Beach Visitors and Convention Authority's board chair, Elsie Sterling Howard and executive director, Grisette Roque-Marcos, whose vision for the event and for Miami Beach as a world-class wedding destination, was a true inspiration for the creation of Miami Beach International Bridal Week."