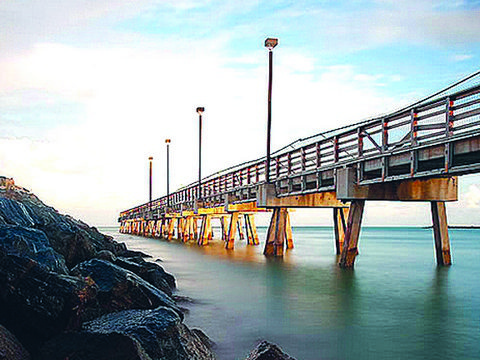 Miami Beach announced the re-opening of a historic landmark from the 1970s. Miami Beach officials inaugurated the newly renovated South Pointe Park Pier located where the city begins at Government Cut.
"We're happy to bring back an important historic landmark that has a special place in many people's heart," said City Manager Jimmy L. Morales. "Families and visitors will, once again, be able to fish, play, relax and make new memories at our pier."
The new South Pointe Park Pier is an environmentally conscious structure that includes state-of-the-art fishing facilities with an artistic entrance.
The City of Miami Beach celebrated the completion of this yearlong project with a series of events leading up to the grand opening celebration. Events were free and open to the public, and included art displays, giveaways, and refreshments and unforgettable ocean views.
The project included the demolition of the existing pier and construction of a new pier that telescopes out in a succession of honeycomb-patterned platforms extending 450 feet from the entrance for fishing, recreation and special occasions. Features include a new pedestrian plaza, shade structures and benches, the installation of viewing stations along the pier and turtlesafe lighting. Construction began in February 2013 and the cost of the project was $4.8 million.
The inauguration of the renovated pier included the world-renowned German artist Tobias Rehberger's playfully designed gateway entrance. The piece, which he calls 'Eloquent South Pointe Pier Gate' pier features the pier's name in his hallmark "speech bubble" paired with colorful abstract lines. The diversity, fun, and artistic style of Miami Beach reflected in this work perfectly accentuates the pier.
The original pier, built in 1979, was a gathering place for fishing, recreation and families in Miami Beach. In 2004, the structure exhibited significant deterioration and deemed to have reached the end of its service life.
The South Pointe Park Pier is located at 1 Washington Avenue, Miami Beach. The South Pointe Park pier is open daily from 7:30 a.m. to sunset.
Funding sources included the Miami- Dade County Interlocal Convention Development/Resort Taxes, South Pointe Capital funds, and the South Pointe Redevelopment Agency. The project also included grants from the Florida Intracoastal Navigation District (FIND) towards the design and construction phases of the pier. Partner agencies also included the U.S. Army Corps of Engineers, U.S. Coast Guard, Miami Beach Marine Authority, Florida Department of Environmental Protection, National Oceanic and Atmospheric Administration, Florida Fish and Wildlife Commission, and Miami-Dade County Regulatory and Economic Resources.