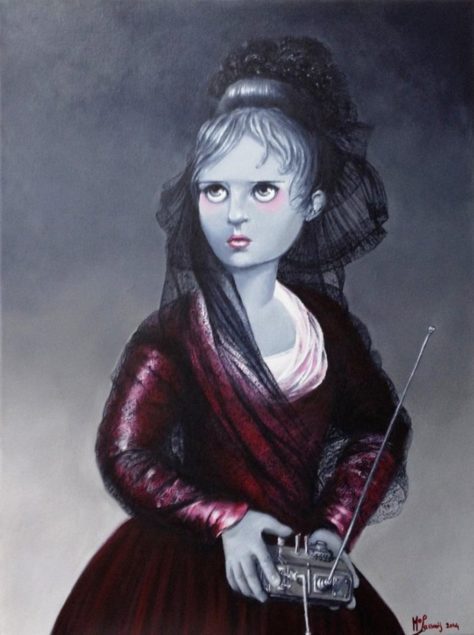 Beginning on June 28, 2018, Sagamore Hotel Miami Beach will present the first edition of the Sagamore Salon. The Sagamore Salon will show approximately 100 works of varied media by as many as 40 artists, inspired by the original "Salon de Paris," and its more inclusive spinoff, the "Salon des Refusés," which was established by Napoleon for all of the artists that were rejected by the famous Salon de Paris. The Salon des Refusés was known for accepting new types of art not yet embraced by the establishment, including impressionists. The Sagamore Salon will also incorporate the original salon's immersive, floor-to-ceiling hanging style that packed the walls with smaller artworks.
The Sagamore Salon show will be open 24/7 and on view through September 30th, 2018. All artworks will be for sale. The Sagamore Salon is held in partnership with Zemack Gallery, Arthood56, and curated by the hotel's resident art advisor, Sebastien Laboureau. Also, gallery partner Blue Gallery, who's known for its exclusive collection of Israeli art as well as many other renowned artists, mixing sophisticated flare with contemporary. 
The preliminary list of participating artists include French B., Blood & Candy, Cedrik Cavallier, Claude Charlier, Oren Cohen, Dani Cooperman, Sid Daniels, Yzhak Davidovich, Jon Davis, Sheila Elias, Jamie Eroncig, Iris Eshet Cohen, Sveta Esser, Amir Genislaw, Lenner Gogli, Patricio Gonzalez, Edgar Gutierrez, Jamie Jones, Monique Lassooij, Isaac Maimon, Niso Maman, Daniel Ore'lus St Juste, Alex Pauker, Rubem Robierb David Schluss, and Tali Toledano.
The Sagamore Hotel will present a wide selection of artists, some of them not currently represented by galleries, so that the public will discover artworks that are not being "sanctioned" by the art world, and that could be the next big thing.
Continuing with the #SagamoreisArt platform, the hotel will host regular happy hour events on Thursdays from 6PM to 9PM with guided tours by curator Sebastien Laboureau, and art talks by featured artists. For additional information, please visit www.sagamorehotel.com/sagamoresalon