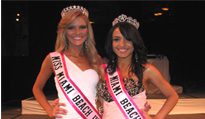 Annilie Hastey, Miss Miami Beach 2011, will be hosting the 2012 Miss Miami Beach USA and Miss Miami Beach Teen on June 5 at the Deauville Beach Resort.
Miss Miami Beach 2011 Annilie Hastey has hit the production "tri-fecta."  After winning the pageant, Ms. Hastey was signed by Miami's Green Agency who helped her secure principal roles in Burn Notice, The Glades and Charlie's Angels. According to Agency Director Lauren Green-Martincak, the pageant experience was a huge help in the career success of Annilie. "Not only can she beautifully model, she has great on-screen presence which has resulted from her hard work and dedication to mind and body."
Ms. Hastey served the city at several Miami Beach events including the Veteran's Day Parade, throwing the first ball out for the international Miami Beach Polo Matches and an Epicure Black tie event and at Jungle Island.   Her court of beauties helped at several Miami Beach clean-ups and rode the Duck Tour boat in the cities parade.
For tickets and information on the Pageants please contact 305/532-9225 or visit  www.miamibeachpageants.com.