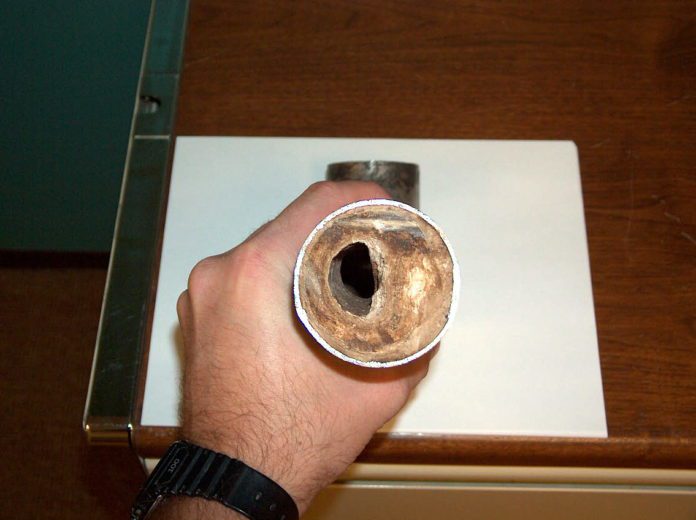 Delta Products Group makes scientific liquid solvents specifically designed to SAFELY dissolve all water scale, lime and rust deposits from any type of water-operated equipment. Delta's descalers are environmentally SAFE, non-hazardous, biodegradable, non-toxic, non-corrosive and safe enough to hold in your bare hand. Since their introduction, Delta's descalers have grown in reputation as innovative, safe and exceptionally efficient chemical cleaners. Delta has been manufacturing deposit removal chemicals since  1938 and has developed the world's leading biodegradable descalers and specialty supplements. Delta's descalers are the first and ONLY cleaners allowed onboard US Navy nuclear submarines and aircraft carriers, so you know they will be safe for your industry and equipment as well.
Commercial and residential high-rise buildings offer a special blend of descaling opportunities that need to be addressed with superior technology. Delta's capabilities to remove the toughest water-formed deposits without damaging your valuable equipment are unsurpassed. All of Delta's products have been tested and approved for use by HUD, VA, USDA and others for use in removing fouling deposits, even from domestic water supply piping.
Even treated systems will eventually encounter problems as there are no available methods to completely eliminate the formation of scale and rust. Few procedures will successfully minimize or slow down the process, but all systems eventually succumb to the harmful effects of restrictive fouling. The costs of annual treatment as compared with scheduled Delta cleanings are certainly worth investigating for your particular applications. Delta Products Group will gladly offer consultation without obligation to help determine your needs and explain your options.
Whether your problems stem from the formation of rust from soft water attacking your pipes and equipment or you have hard water scale and lime deposits from the minerals in your water supply, Delta Products Group has a solution. Halt the formation of rust deposits that are eating into your critical supply pipes and eliminate the restrictive blockage caused by scale with a preventive maintenance schedule using Delta Products' unique chemistry. Cleanings may be performed on entire systems, individual units or  whole buildings one floor or riser at a time. Most cleanings may be accomplished in a matter of hours and entire buildings can be completed in just days. There are no large pieces of deposit broken off to clog pipes and there are no neutralizing chemicals to add or buy as with other cleaning products and/or methods. Disposal never poses a problem as you can discard Delta's chemistry down regular sewer lines with a simple water flush. Delta cleaners are water miscible and do not exude any obnoxious odors so there is no need to evacuate tenants or personnel while circulating. These unequaled methods are very effective and dissolve deposits like sugar dissolves into coffee. Delta Products' cleaners will work on any water-operated system without dismantling and can even clean some equipment while in operation and without shutdown.
In the past when cooling systems or domestic piping became fouled with scale and rust deposits, many buildings had little alternative but to replace the pipes. Years of research and development in descaling procedures and technique now make possible the latest application for Delta Products Group's many unique cleaners.
Delta's products have many uses and applications for returning the critical operating efficiencies to your building's systems.
Domestic water supply piping
Radiators
Hot water heaters
Heat exchangers
Condensers and supply lines
Air conditioning coils
Cooling towers
Boilers
Unit heaters
Evaporators
Commercial Kitchen equipment
Locker rooms and bathrooms
Janitorial applications
Drinking fountains and ice machines
Valves and parts
Please contact us at 954-224-4954 or 888-DESCALE and check out our website at      www.DeltaProducts.com for further information.