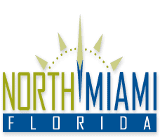 The North Miami Parks and Recreation Department has been selected as a Grow Your Park grant recipient from the Darden Foundation and the National Recreation and Park Association (NRPA). North Miami is one of fifteen communities in the nation awarded this grant in 2014.
Community gardens located in parks and other community spaces provide a nutritious source of local and healthy produce, while encouraging project collaboration and healthy living. In North Miami, the development of these gardens will help engage the community in the planting and growing of an edible garden, as well as the importance of healthy eating as part of a healthy lifestyle.
Parks and Recreation Department Manager, Derrick Corker explained, "It is an honor to partner with both NRPA and the Darden Foundation to promote healthy lifestyles in our community. We are excited to expand on our ongoing health and wellness initiatives that began in 2009 when we were chosen by the NRPA as an ACHIEVE (Action Communities for Health, Innovation and EnVironmental ChangE) community Funding from the Darden Foundation will help to continue our efforts to implement community gardens in North Miami through hands-on gardening experiences and educational efforts. We hope to mold a future generation of healthy gardeners."
Currently there are plans to build four community gardens in park locations throughout the City.
"The Grow Your Park grant program and its recipients embody our commitment to give back to local communities, preserve our planet's natural resources and serve food to those in need," said Stephanie Ghertner, director of the Darden Foundation. "Food banks and other organizations in communities across the country benefit from the fresh produce and educational opportunities community gardens provide."
Community gardens promote healthy lifestyles, connect people to nature, cultivate community ties, and strengthen self-sufficiency for many. The entire process from planting to harvesting helps create a more active, engaged and healthy community.
For more information about the NRPA's Grow Your Park program, visit www.nrpa.org/garden/.
For information, or to participate in the cultivation of North Miami's community gardens, contact the North Miami Parks and Recreation Department at 305-895-9840.