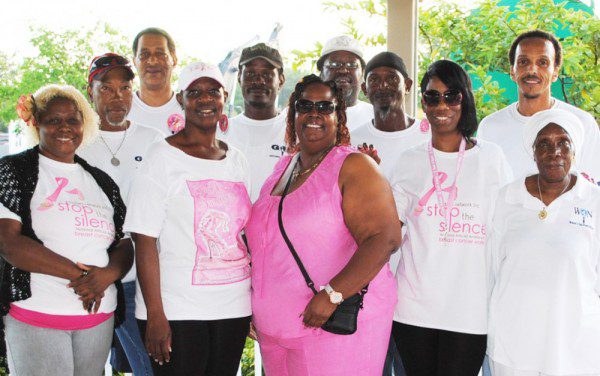 "I was weak, I lost my hair and much of my memory, but I KNEW I needed to fight for my husband and children when I was diagnosed with stage three Inflammatory Breast Cancer, which led me to reach-out on the internet to other African-American survivors through SISTERS NETWORK, INC. (SNI), a breast cancer survivorship organization and support group," reminisced Adrian McClenney at the 1st Annual Breast Cancer Awareness Health Fair and Walk, hosted by Commissioner Gail Miller and The City of Opa-locka Mayor and Commission on Saturday, May 19, 2012 from 7:00 AM to 1:30 PM at Sherbondy Park, 777 Sharazad Boulevard, Opa-locka, Florida 33054.
During 16 cycles of chemotherapy, 37 cycles of radiation, the removal of 20 limp nodes and a double mastectomy, the frail, petite framed McClenney displayed a sizeable amount of strength by maintaining a positive and hopeful attitude, which carried the weight of her of determination and willpower as she began wrestling her infirmity on May 19, 2011. During this time, despite her condition, McClenney embraced the huge responsibility of forming a local chapter of Sisters Network, Inc., to help others, like herself, also battling the disease. She empathetically remarked, "After discovering a sisterhood among Karen E. Jackson, Founder and CEO of Sisters Network® Inc., and other African-Americans, I observed that there were no chapters in this area. This brought on the need and the desire to organize in our community, so others would know they were not alone." As the Miami President of Sisters Network, Inc., McClenney began working diligently with Jackson and other members of SNI to educate, support, empower, give hope and address the breast health needs of African- American women in South Florida and through affiliate chapters, while partnering with existing service providers.
Commissioner Miller noted, "Adrian and I once worked together driving busses, so when I saw her again, she told me about her experience with this 'silent killer,' I felt it was important to unite with the organization through this Breast Cancer Awareness Health Fair, to echo the word of her support-group to residents in the City of Opa-locka." Miller commented, "It's time for our people to see the bigger picture and stop being secretive about this disease." She added, "Black folks don't like to talk about this and consequently will live through it in silence and shame." Miller then invited other survivors in the audience to speak-out during the program.
Among the four other cancer survivors to step-up to the podium was Laranda Sharp who was inspired to speak about her experience after being diagnosed on April 5, 2011 with the Ductal Carcinoma cancer. Sharp was driving when her physician, after several missed calls, contacted her by cellular phone, suggested she pull-over, then delivered the news. Sharp, accompanied by her optimistic husband, later visited her doctor's office. "Dr. Luisa Stern held me, cried with me, encouraged a second opinion and, without hesitation, saw me through each step with the Oncologist and Chemotherapist," revealed Sharp. "When first hearing the word 'cancer,' you think of death. But with early detection and the type of support I received, you will believe in a positive outcome, which can affect the increase of your survival rate," she elaborated while expressing much appreciation for her husband and doctor.
According to the American Cancer Society's 2011 Cancer Facts and Figures for African-Americans, the incidence rate of breast cancer among women under age 45 is higher for African-American women compared to white women. African- American women have a five-year survival rate of 78% after diagnosis, as compared to 90% for white women. The breast cancer mortality rate for African-American women is 36% higher than white women. Research shows that aggressive tumor characteristics are more common in African-American women than white women and breast cancer is the second most common cause of cancer deaths among African-American women (only surpassed by lung cancer).
However, this is "not just a women's disease," one of several "brothers" supporting the "Sisters," revealed. Bryan Lewis from "Gentleman of Distinction (G.O.D.)" was instrumental in heightening the awareness of spectators when he exposed that men, although the odds are not overwhelming, can also suffer from breast cancer. Attorney Greer Elaine Wallace had no idea that approximately 2,000 (1%) men are victims of breast cancer, amounting to about 450 deaths each year. Representing Florida City Councilman Elvis R. Maldonado, who recently lost his wife to cancer, and Homestead's Vice Mayor Judy Waldman who underwent a double mastectomy resulting from her encounter with breast cancer, Wallace stated that upon attending the Annual Breast Cancer Health Fair and Walk, her intent was to gain more information on the disease, but after attending the event, she is more steadfast about notifying others that "this illness should be a major concern, not JUST for women… but for EVERYONE!"
After presenting proclamations to Adrian McClenney and the Miami Chapter of Sisters Network, Inc., Commissioner Miller invited guest to visit several event booths for a voter's registration drive, HIV/STD testing, blood donation, chiropractic information, "Safety for Kids" with the Miami-Dade Police Department and finger printing by Miami-Dade Corrections. D.J. Dwayne Mingo from "Entertainment to Remember" was in charge of music, while the youth enjoyed the bounce house. Others on program with McClenney and Sharp included Keisha Clayton, Debra Sheffield-Irby, Shelia Jackson, Ella Jackson, Yovanka Delemos and Betty Reyes.
Due to Karen Jackson's leadership, the Sisters Network® Inc has experienced phenomenal growth resulting in over 42 survivor- run affiliate chapters, serving more than 3000 members and associate members nationwide. The Network has become the leading voice in the African-American women's fight against breast cancer. For membership or information on the local chapter of SISTERS NETWORK, INC., visit the website at sistersnetworkmiami.org or contact Adrian McClenney and Keisha Clayton at 305.474.9269 or by email at miami@sistersnetworkinc.org.