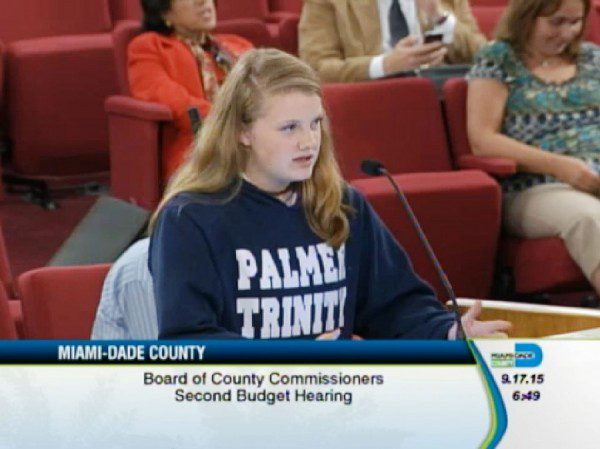 With the future looking brighter thanks to Palmer Trinity School, one student shines brightly for her efforts to educate her peers on the importance of sea rise and global warming. This student is Delaney Reynolds, who has achieved much in the field of environmental protection, and has been featured for her previous achievements earlier this year.
"We are so proud of Delaney and her hard work in not only shining a light on the environment, but mentoring younger students and informing them about this important topic."- Patrick Roberts, Head of School , Palmer Trinity.
– Patrick Roberts, Head of School , Palmer Trinity.
Delaney Reynolds, founder of both "The Sink and Swim Project" and http://miamisearise.com, is well known for her involvement in promotional education about rising sea levels and their effects on Miami.
Her most recent lecture on sea level rise and global warming titled "Sink or Swim", was presented to new students of the Breakthrough Miami enrichment program. "The Sink or Swim Project" was also featured at TEDx Youth@Miami on Friday, Feb. 26, at the Adrienne Arsht Center for the Performing Arts.
Be sure to check out the televised version of her lecture later this year, as filmed by National Geographic as part of its Emmy Award-winning show Years of Living Dangerously,
In addition, public charity Ceiling and Visibility Unlimited, or CAVU (www.cavu.org), in collaboration with the Sea Turtle Conservancy asked Delaney to be part of their video series, "Ahead of the Tide", as suggested by Dr. Phillip K. Stoddard, Mayor of The City of South Miami and professor at Florida International University.  She would be interviewed by the crew for her personal youthful perspective on environmental changes related to sea rise, and can be seen in the current trailers before their broadcast on public television sometime later this year.
Delaney's other credits include participation in Palmer Trinity's first Academy of Agents of Change, and her continued efforts to bring attention to environmental changes that shape South Florida's coastal communities are documented on http://miamisearise.com.
Be sure to check out the continued efforts of future generations, like Delaney Reynolds, who wish to bring awareness to Miami's ongoing relationship with sea rise, and the threat it may pose to the landscape, its residents, and its future as a seaside part of the state of Florida.