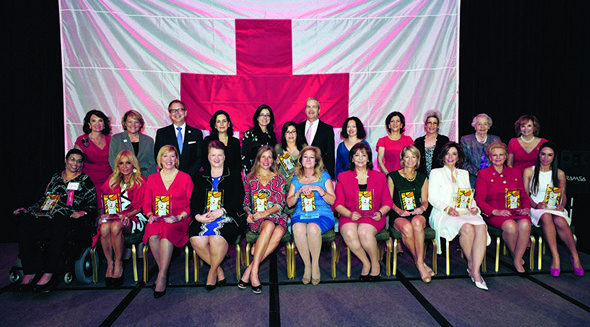 The American Red Cross honored 12 outstanding ladies with the Sarah Hopkins Woodruff Spectrum Awards for Women during a Mar. 5 luncheon at the Hotel InterContinental in downtown Miami.
The honorees serve as exceptional examples of the humanitarian principles of the American Red Cross: Humanity, Impartiality, Independence, Unity, Neutrality, and Voluntary Service.
"Spectrum" refers to the impact these women have on a broad scope of community life and also reflects the spectrum of cultures represented in our community.
Ileana Bravo served as emcee for the awards, which was chaired by Phillis Oeters. Swanee DiMare was the honorary chair. Bravo also narrated a video tribute to each of the Spectrum honorees produced by Josie Goytisolo. The Leonora B. Hopkins Foundation was the presenting sponsor.
This year, a special Global Pioneer Award was presented to Lorena Vasquez, master blender of Ron (rum) Zacapa Centenario, distributed and marketed by Diageo, which donated the wine and spirits for the luncheon. The centerpieces were provided by Petal Productions.
The 2013 Hopkins Woodruff Spectrum Awards for Women honorees are:
• Florida Blue Philanthropy Award, Irene Korge;
• Rosalind Ludwig Chairmen's Award, Jeanett Slesnick;
• Cervera Real Estate Ambassador Award, Penny Shaffer;
• Bank of America Cultural Award, Kathryn Q. Mikesell;
• White & Case LLP Education Award, Mary Young;
• Mercantil Commercebank Entrepreneurial Award, Olga M. Ramudo;
• Baptist Health South Florida Healthcare Award, Sabrina Cohen;
• Greater Miami & The Beaches Hotel Association Hospitality Award, Julie-Grimes;
• The Ethel and W. George Kennedy Family Foundation Volunteerism Award,
Patricia Robbins;
• Barbara Nelson Red Cross Service Award, Janelle Patty;
• Swanee and Paul DiMare Youth Award, Marina Bryant, and
• Global Pioneer Award, Lorena Vasquez.
For information, visit www.redcross.org