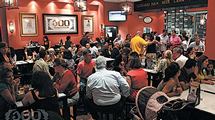 Juan Gervás, 100 Montaditos CEO for the Americas, has announced that 100 Montaditos is right on schedule with store openings in the United States as it ambitions to have 14 stores across Florida and one in Washington, DC, by the end of 2012.
Since its first store opening in January 2011, 100 Montaditos has left many in South Florida wanting more and the Spanish restaurant chain is happy to oblige as new stores opened during August in Kendall and Coral Gables.
The two new locations will generate a total of 44 direct jobs in Miami-Dade County during a time when the housing market depression, high unemployment rate and cutbacks in government funding continue to affect the local economy.
The Coral Gables location has opened its doors to the public and is conveniently located at 230 Miracle Mile, a dining and nightlife epicenter for the people who live and work in the city.
Also opening recently was 100 Montaditos Kendall at 10501 N. Kendall Dr., located near shopping, offices, Baptist Hospital and Miami Dade College.
The chain is best distinguished by the use of quality ingredients and economically priced menu items, among them jamon Ibérico (Iberian cured ham), of Spanish origin and recognized as the highest premium quality ham in the world. At $15 for an Ibérico Ham platter large enough to share, 100 Montaditos offers the Spanish delight at one third of the market value, a price that remains clearly unmatched by any other store or restaurant in Miami.
"We have been pleasantly surprised by the success of our brand in Florida," Gervás said. The Madrid-based chain, Spain's top international restaurant franchise, has been a hit due to its strategic locations, fresh food, low prices and pleasant atmosphere. These advantages have prompted interested franchisees as far north as Boston to sign agreements with 100 Montaditos, though South Florida is and will continue to be the chain's stronghold in the U.S.
100 Montaditos is named after its signature item, the montadito, a crunchy Spanish roll baked to order and jampacked with traditional Spanish meats, cheeses, sauces and other toppings. More than 100 types of montaditos, both savory and sweet, are available to choose from and they can be enjoyed at any time of day as a snack or meal.
Along with montaditos, the restaurant is also known for such Spanish favorites as Blue Cheese, Manchego and Brie platters; patatas bravas, fried potatoes accompanied by a spicy red sauce, and assorted salads with an Iberian twist. Traditional drinks include cava, a sparkling white wine similar to champagne; tinto de verano, a blend of red wine and lemon-lime soda; sangria, wine mixed with chopped fruit, and clara, a blend of Spanish draft beer and lemon-lime soda.
Founded in 2000 in Huelva, Spain and inspired by 19th Century Spanish taverns, the fast casual restaurant chain 100 Montaditos now operates more than 250 franchised restaurants in Spain, Colombia, Mexico, Portugal and the United States that together have served up more than 60 million montaditos. 100 Montaditos is owned by the Madrid-based restaurant holding company Grupo Restalia, which also operates the beer pub franchise La Sureña.
For information about 100 Montaditos, visit www.100Montaditos.com/US