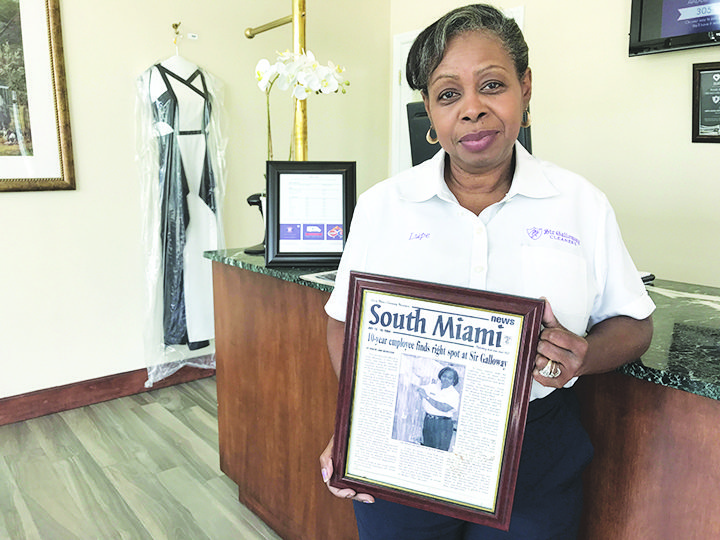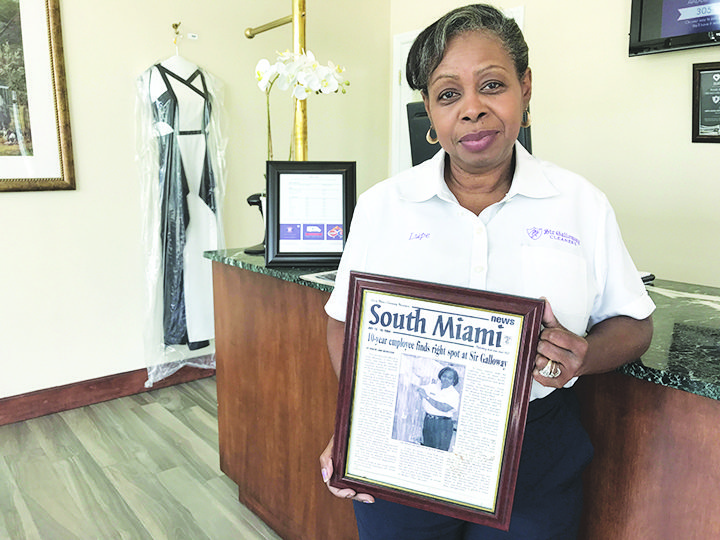 In 2004, Miami's Community Newspapers interviewed Lupe Belmont on her 10th anniversary working for Sir Galloway Dry Cleaners. Now, after working for 23 years with the company, she is ready to retire. She was interviewed just days before she retired.
Lupe Belmont did not expect to stay working at Sir Galloway Dry Cleaners when she came to Miami from New York City in the late 1990s, escaping the snow that had to be shoveled day after day. Before she knew it, she had dedicated 23 years to the company she grew to know and love.
During that time period, Sir Galloway has renewed its equipment and expanded its number of locations. The dry cleaner opened new facilities in South Miami, Pinecrest and Palmetto Bay.
"So many things that have taken place here over the years, such as our new locations, we now have a new conveyor system, new ownership, and my hair is mostly all gray," Belmont said.
Sir Galloway underwent a change in leadership during the past 13 years, and with that new leadership came a new dry cleaning system. The conveyor system now in place makes dry cleaning more efficient by making the sorting process much quicker.
"Before, people would have to package the suits and sort all three pieces together, to make sure that they have not been misplaced, but now the conveyor does that," Belmont said, reflecting upon some of the technological improvements done to the business.
After 23 years, Lupe clearly knows all the ropes. Her title as a customer service representative hardly encompasses the list of responsibilities she held at Sir Galloway.
"There's a lot that goes into dry cleaning that people wouldn't expect — and I would be there from 6:45 in the morning until the afternoon," she noted.
The dedication with which she carried her job is a result of her love for it. And she is proud to boast Sir Galloway is not a cold business: "It's a model of philanthropy."
Serving as a longtime committed supporter of the Camillus House, the dry cleaners sets its philanthropic footprint for other businesses to follow. They donate gently-used clothing, and if a customer wants to donate Sir Galloway provides him/her with the necessary plastic collection bags. Another charity Sir Galloway proudly supports is the Woody Foundation, which raises funds for providing physical therapy to individuals suffering from spinal cord injuries.
The degree by which Sir Galloway gives back to the community is closely matched by a dedication to protecting it. Clothes hangers typically are a nuisance once they're abundantly accumulated in a wardrobe, and most often they are thrown into the garbage bin.
"One of the things Sir Galloway does is collect coat hangers and recycle them… a lot of people in this community care about the environment," said Belmont, who is preparing for her last day of work before she retires.
When asked what she will do with all of her new found off hours, she replied, "Hopefully, I'll finally get a chance to sleep in until 10 in the morning every day for the first week!"
She also said she has to get accustomed to seeing her husband every morning.
"Since he's been retired for a couple of years now, he's used to me being out of the house early."
But Belmont's true desire is to visit Europe, a place she has longed to see, but never had the opportunity.
Sir Galloway service includes full dry cleaning and laundry facilities. For addresses and hours of its area locations, visit sirgalloway.com.