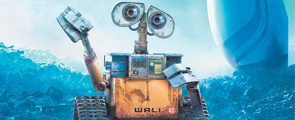 By Gary Alan Ruse….
The village's movie nights usually feature family films that entertain, but the next one, which is scheduled for Friday, Apr. 15, also has a message appropriate for Earth Week.
The Disney Pixar film, WALL•E, which won numerous awards, tells the humorous and endearing tale of a small waste-collecting robot in the distant future who holds the fate of mankind in his small metal hands.
The film will be shown at Coral Reef Park, 7895 SW 152 St., in the area of the Main Gazebo that is parallel to SW 77th Avenue. The film begins at 7:45 p.m., just after sunset, but before showtime there will be a ladybug release at the park's Meditation Garden, according to Bill Kress, village public information specialist.
"We're asking people to come out a half hour earlier, so if folks get there about 7 o'clock they can help us release several thousand of the ladybugs," Kress said. "Last year the kids really loved it."
The movies are projected on a roughly 20- by 25-foot inflated screen that is brought in and set up for each event. Kirk Hearin, acting Parks and Recreation director, while Fanny Carmona-Gonzalez is on maternity leave, commented on the issue of whether the village should perhaps buy one of the screens instead of renting it.
"We did look into that last year, and after analyzing it we didn't think it would be cost efficient to do that," Hearin said. "The equipment is very delicate and has to be handled with care. It requires storage in a humidity free environment. The equipment itself costs between $15,000 and $17,000. The blow-up screen can tear or rip rather easily.
"It would probably take us three or four years to recapture that amount of money, based on what it costs us to rent it each time. We thought it best if we continue renting. In addition, we've been fortunate with previous films that we've been able to find sponsors who covered that cost, so there was really no out of pocket expense direct to the city for those prior movies."
Attendance for movie nights varies roughly from 400 to 600-700. Most people bring their own blankets or chairs, as well as picnic baskets and coolers with whatever food and drinks they want, almost like a football tailgate party. A top-quality sound system adds to the experience.
"It's a very popular event that gets the families out there for something they can enjoy together," Hearin said. "Some families even work together to plan out a big picnic meal."
For more information, call Village Hall at 305-259-1234.